Published on:
14:33PM Sep 26, 2008
Before you read any further, let's be honest; we really don't know how the proposed federal bailout or "rescue plan" will impact the commodity markets at least from the standpoint of market direction. So if you're expecting the magic answer in this blog you don't need to read any further….I certainly don't have it. That being said, here are my thoughts for what their worth. One espoused expectation is for an increase in federal debt due to the bailout plan. And the chart below suggests that growing or decreasing federal debt can have a significant impact on commodities. Since 1990 (and beforehand for that matter), when federal debt as a percent of our gross domestic product as declined (i.e.: 1996-2001), the value of the US dollar has increased. Conversely, as federal debt as a percent of GDP has increased (i.e. 2003 to present), the value of the dollar has depreciated. What does this have to do with food commodities? Well, a devalued US dollar makes our products less expensive overseas which can boost exports. At the same time it makes international products more expensive to us which can temper imports. In short, a devalued US dollar is generally inflationary for our commodities because in part, in can bring a boost in demand for our products on the world stage. So the question going forward is;  Will the bailout program increase federal debt? As I understand it, at least in theory, the bailout program is a purchasing of assets and not an expenditure. And there is a chance that the US Government can make money with the bailout program and even decrease our federal debt. Of course this depends on whether the bailout program will work or not. And the answer to that will be written in the history books.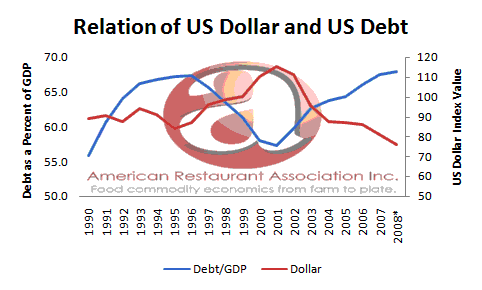 These comments and data are provided for information purposes only and are not intended to be used for specific trading strategies.  Past financial results are not necessarily indicative of future performance.  Any examples given are strictly hypothetical and no representation is being made that a person will or is likely to achieve profits or losses similar to those examples.  Neither the information, nor any opinion expressed constitutes a solicitation to buy or sell futures or options on futures contracts or OTC products.  Covered parties (as defined below) shall not be liable for any direct, indirect, incidental, special or consequential damages of any kind, whatsoever (including attorney's fees and lost profits or savings) in any way due to, resulting from, or arising in connection with this email, including it's content, regardless of any negligence of the covered party including but not limited to technical inaccuracies and typographical errors.  "Covered Parties" is defined as American Restaurant Association Inc., ARA Trading and the employees of both companies.
Commodity trading involves risks, and you should fully understand those risks before trading.