Published on:
14:19PM Aug 26, 2009
Corn is grown outside of the Corn Belt, so it figures that farmers travel from across the country to come to central Illinois for Corn College.
The 400 farmers who attended the two-day sessions of Corn College came from 27 states! Registration for the one-day event is filling up with farmers who represent 17 states.
Here's a map of where these farmers are from: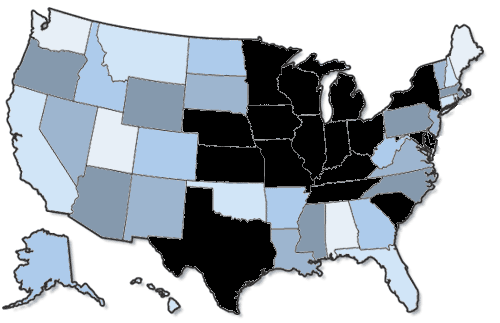 * states in black have farmers attending Aug. 31 Corn College 


It's not too late for you to head to the field with Ken Ferrie! We're offering the opportunity to attend a condensed curriculum on Aug. 31.
Led by Farm Journal Field Agronomist Ken Ferrie, the event promises to provide take-to-the-field knowledge. This special event will take place at the Corn College site, which means you're only 30 minutes away from the Farm Progress Show. 
Registration is $249  
You must pre-register for this event.
Call (800) 909-3681