Published on:
16:31PM Aug 28, 2010
I am hearing that we there was another big move of cattle out of the feedlots this week. I am sure there are several ways to look at this, but one could certainly reason through it all the packers have accumulated some significant inventory. If this is true you can almost certainly guarantee production schedules will be trimmed back in the coming weeks ahead. Unless we see beef prices continue to climb on the board the demand for cattle from the packer should be somewhat limited near term. With limited end-user demand you have to believe cash cattle prices will start to weaken.  
If you look at the current data it looks as if demand in August will certainly equal that of July, and if we are doing our math correctly, moving forward wholesale beef demand in September will be materially higher than in August. We are assuming that demand should fall back as summer comes to an end forcing  the cash cattle market down into the $95-96 range. If for some reason demand continues to stay very strong, you have to believe cash cattle prices will stay in the $98-$100 level with packers continuing to have ample inventory. 
With this in mind we will continue to recommend selling the Oct $100 calls, preferable only on days when the market is trading higher in order to increase our premium valuations. On the flip side we will be looking to get long live cattle from $96 in the October contract and around $97.50 in the December contract. 
* As you can see from the chart below Cattle has reached some tough resistance at the $100 level. We anticipate a slight pull-back and a consolidation period before this market makes another run higher.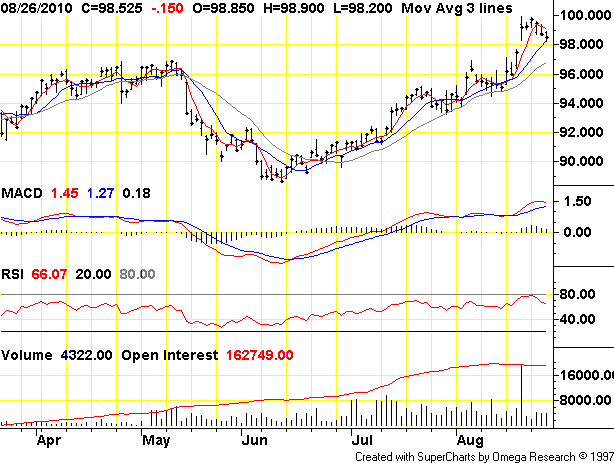 **For those of you have not signed up to receive our daily trade wire report, simple follow the link to our site and sign-up. There is no cost or obligation. It is a great little report. Quick and easy to read, jammed packed with all kinds of good news and info from the trading floor and around the globe. 
Free Ag Hedge Daily Trade Report 
The comments and information above belong to Kevin Van Trump, Ag Hedge, and their team of professional trade analyst. The information is believed to be reliable but no guarantee either written or implied is being made. Hedging and or Investing in derivatives, futures or options may not be suited for all producers or investors. This information is solely a recap of theories and strategies being used by Ag Hedge and or it's team of trade analyst. Any investment or hedge decisions that you make are solely your responsibility. Please consult with your licensed advisor and read the entire "Risk Disclosure" statement before you consider using any of the above mentioned strategies or trading techniques