Published on:
10:32AM Sep 29, 2008
By Catherine Merlo

Ever see the Steve Martin-John Candy movie, "Planes, Trains and Automobiles?" In that road comedy, a businessman endures a frustrating but very funny ordeal as he tries to get home to Chicago from a New York City meeting.
A trip to World Dairy Expo in Madison, Wis., can be just like that, especially if you're traveling from Bakersfield, Calif., home of Dairy Today's Western office.
Oh, yeah, been there, done that. Getting to Expo from the West requires a full day of travel, with the ever-possible chance of flight delays, an all-night stay at Chicago's O'Hare Airport, and a three-hour bus ride from the Windy City to Madison after your flight's been cancelled. Then, there's all the fun of renting a car and trying to find the hotel. And, of course, Expo offers that long week away from home, family and comfortable routine.
But as I plan my fourth trip to World Dairy Expo, which runs from Sept. 30 to Oct. 4 this year, I'm looking past all that. I'm remembering the brisk morning walk from the ocean-sized parking lot at the Alliant Energy Center to the Exhibition Hall.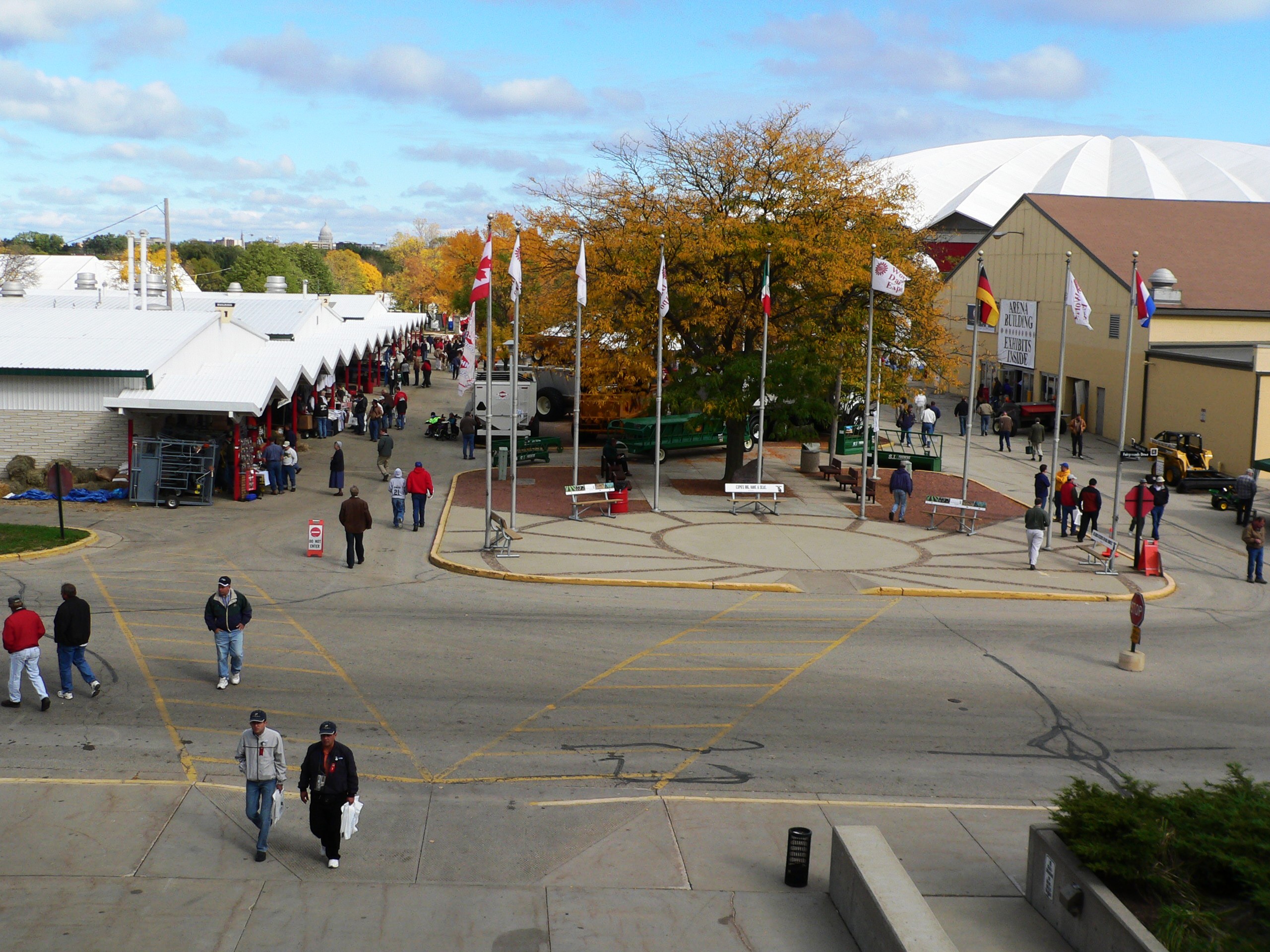 World Dairy Expo's main street, looking toward the barns and the Coliseum.
 I'm picturing the long sidewalk lined with autumn-leaved trees and the white barns, the well-groomed cows being led and washed and fed. I'm seeing the hundreds of commercial exhibits, the show ring in the Coliseum, the upstairs media center, the food booths, and the huge farm equipment displays filling the concrete lot outside of the Exhibition Hall.
I'm also thinking ahead to the people who'll be there, those I know but rarely see, including my Minneapolis-based editor, Jim Dickrell, and Dairy Today's publisher, Bill Newham, and his assistant Ramona Rei, from Kansas City.
Dairy Today's sales team, Sue Lee and Lori Lulich, will be there too. So will our new Beef Today editor, Kim Watson, from San Antonio, Texas. I'll see Expo's Lisa Behnke and Liz Matzke, and Annette (the lady who runs the Purple Cow gift shop), and the funny cow cartoonist, Leigh Rubin.
And I'll see many of the 67,000 dairy industry people from some 90 countries who attend this gigantic show. I won't know many of them but I'll be watching, listening and asking a lot of questions.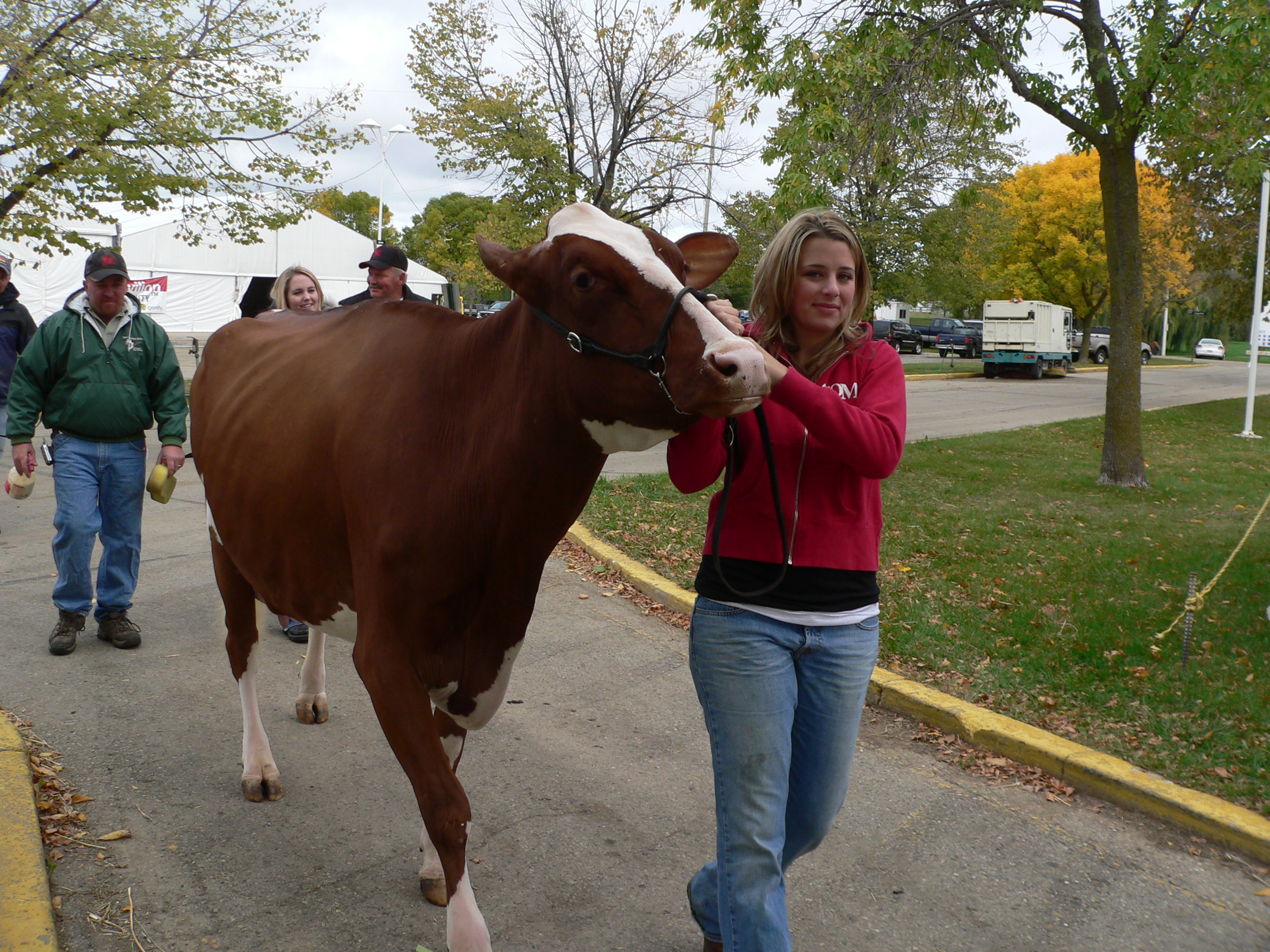 A show ring hopeful leads her cow to the Coliseum at Expo.
This year, I'll be reporting online to you every day about World Dairy Expo. As members of the news media, Jim and I cover the Virtual Farm Tours, the educational seminars and the news conferences. We meet with advertisers, visit dozens of booths, and talk to many people. We stroll through the barns and watch the cattle exhibitions and auctions in the show ring. There's a lot going on at Expo, and we get a front-row seat to much of it.
Starting today--a week before World Dairy Expo officially begins-- I'll post dispatches about the hectic show week through this "Dairy Today's Expo Extra." Each day I'll report on what I've seen and heard, who I've met, and the behind-the-scenes discussions that really make Expo worthwhile.
And, if my flight gets diverted to Wichita, or I get stuck beside a Del Griffith, or my rental car catches on fire, don't worry--I'll keep you posted on that too.