Published on:
10:57AM May 12, 2010
Corn opened the day down a half cent in the July contract at 370 and rallied into the midmorning session. The May USDA Supply and Demand report was seen as "friendly" to corn with the carryout at 1.818 (average guess was 1.884). This decrease was due to an increase in exports as well as an increase in ethanol usage. Planting progress on Monday shows corn at 81% planted and 39% emerged. These are both well above the five-year averages of 62% planted and 21% emerged. Despite this bearish news, corn demand has remained steady with more rumors of Chinese buying today. Between this and the USDA report, it may have enough strength to test the high end of the range again (above 3.95 Dec. corn). We are still encouraging producers to get caught up on sales, but we have been using some call strategies to get upside protection.
Soybeans opened lower on the day but have since traded higher. The USDA report today was seen as "bearish" soybeans and remains weak compared to corn. The carryout was estimated at 0.338 but came in above expectations at 0.365. After breaking into the end of last week, we still remain above the trendline on the continuation chart. If we happen to break this trendline and settle below, we could see another large break in beans (see chart). With planting progress ahead of schedule at 30%, we still want to remain properly hedged for producers. In our opinion, bean volatility has been lower than usual, so there have been some good ways to get hedged using options. 
Coming into the week, we were hitting two-month highs (5.17 July wheat). On Monday we saw a large correction and July finished 17¾ lower. The USDA report came out at 0.997 for carryout, which was above the average guess of 0.961. Crop conditions continue to show wheat in good shape. HRW is 66% good-excellent but we see 2% dropdown to fair/poor. Producers should store wheat and hedge on the futures market. There is a huge carry in the futures market and a discount in the basis right now. With the potential for a sharp reduction in the SRW crop, we could see cash prices improve rapidly after harvest. Please call if you have any questions.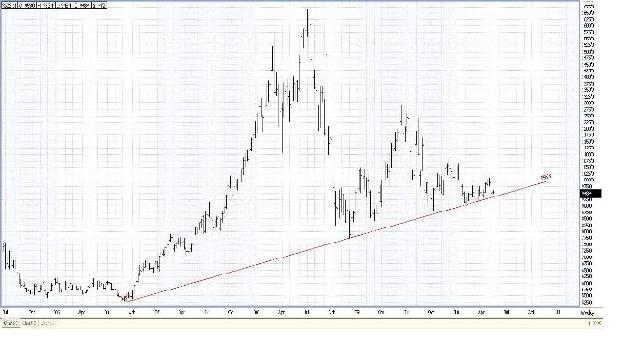 Our commentaries are just one part of our whole risk management service. Please go to
http://www.ehedger.com/getmore.html
for a free two-week trial of our full member website that gives you access to all our hedge and marketing recommendations, educational tools, market snapshots and much more.
Also learn about our acclaimed AMMO Program that helps producers optimize their marketing strategies using the premier tools and insights in the industry.
Get Organized. Get Ahead. Get EHedger
Trading commodity futures and options involves substantial risk of loss and may not be suitable for all investors. The market information contained in this message has been obtained from sources believed to be reliable, but is not guaranteed as to its accuracy or completeness. Market information may not be consistent with current or future market positions of EHedger, its affiliates, officers, directors, employees, or agents. Recipients assume the risk of reliance on and indemnify and hold EHedger harmless for any and all losses, costs, or tax consequences incurred as a result of their use of market information.