Published on:
17:31PM Jun 04, 2010
Grains finished on the lows of the week with new crop corn, beans, and wheat all settling at fresh 2010 settlement lows. Corn lost 20 ½ cents on the week settling the December contract at 359 ½. Much weaker than expected corn sales this morning and a stronger US Dollar kept corn on the defensive for the session. Exports this week were at 198,700 MT for this year and 114,400 MT for next which is well below the trade estimates of between 700,000 and 1,250,000 MT.  It appears corn has broken through the bottom end of the range and may find its next technical support at the contract lows of 333 ¾ (July) which was the price in September 2009. The weather still looks favorable for most areas throughout the corn-belt for the next 6-10 days. As is the case with any weather market day to day forecasts need to be monitored. We should continue to see strong progress with already planted crops and also areas that need to catch up. If the weather stays good through pollination, we will likely see December futures trade under $3.50 and head even lower towards harvest.  If we were to see a weather problem her in the U.S. and/or in China this growing season we should see corn prices find a bottom in the coming months. We are hearing reports out of the West of farmers that are selling corn to make room for the upcoming wheat harvest. This could continue to put pressure on the corn market as we go forward.  For those producers that still need to get caught up on the hedge recommendations that we have issued please call your broker and discuss the available plan for your operation.
November soybeans finished 7 ¾ lower on the week at $9.00.  Like corn, export sales this morning came in weaker than expected. Estimates were between 200,000 and 400,000 MT but the actual were at 135,000 this year and 13,100 for next.  The record South American crop continues to come online and global stocks this fall will be 45% larger than last year. We will still have to grow a crop here in the U.S. obviously, but if we do have trend line yields we could see much lower prices this fall.  A lot can change (and usually does!) but if you are not caught up on sales I would look for a rally back towards $9.30-9.50 in November soybeans to do so. For those producers that have their hedges in place we would continue to stay hedged.
December wheat futures finished 22 cents lower on the week. Wheat continues to close on contract lows and hasn't seen a higher day-close in 5 trading sessions. Wheat continues to struggle based on the fundamentals in place as well as outside markets. As the Euro Currency continues to deteriorate, European wheat looks cheap. Much of our demand could be shifted to Europe leaving our fundamentals weaker. As previously mentioned we have been hearing that farmers out West are beginning to ramp up corn sales to make room for the upcoming wheat harvest. If you are a wheat producer that has the ability to store your wheat, we have been discussing strategies to sell deferred futures and store the wheat in order to take advantage of the carry that is in the market. Something to think about going forward; we have settled below the support line on the weekly continues chart of Corn, Wheat, and Beans as discussed in previous letters (see chart below.) From a technical standpoint this could mean further weakness from here. If you are not caught up to our recommended levels of protection, please call you broker to discuss your hedging opportunities going forward.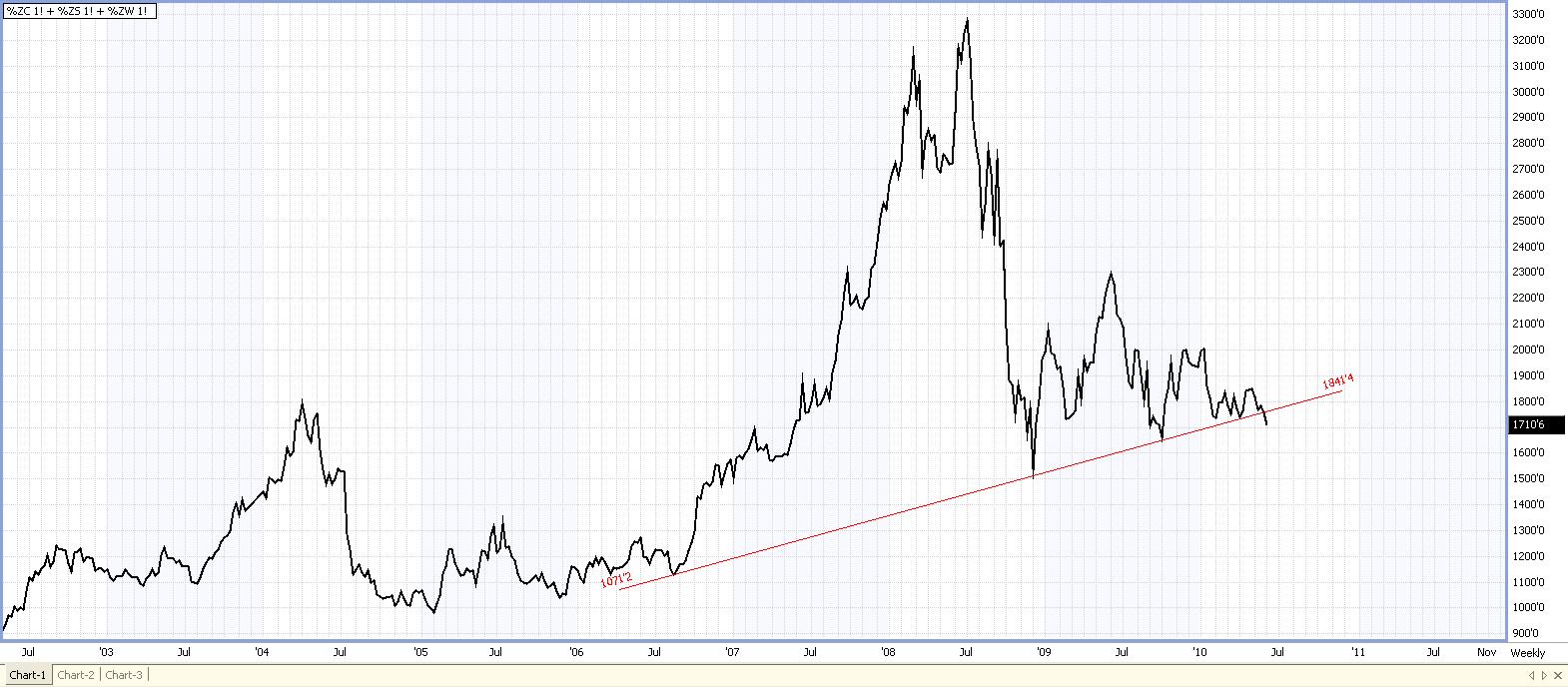 Our commentaries are just one part of our whole risk management service. Please go to
http://www.ehedger.com/getmore.html
for a free two-week trial of our full member website that gives you access to all our hedge and marketing recommendations, educational tools, market snapshots and much more.
Also learn about our acclaimed AMMO Program that helps producers optimize their marketing strategies using the premier tools and insights in the industry.
Get Organized. Get Ahead. Get EHedger
Trading commodity futures and options involves substantial risk of loss and may not be suitable for all investors. The market information contained in this message has been obtained from sources believed to be reliable, but is not guaranteed as to its accuracy or completeness. Market information may not be consistent with current or future market positions of E Hedger, its affiliates, officers, directors, employees, or agents. Recipients assume the risk of reliance on and indemnify and hold E Hedger harmless for any and all losses, costs, or tax consequences incurred as a result of their use of market information.