Published on:
17:48PM May 01, 2009
Weekly Grain Wrap-UP 
Overview:
What an active week. Concerns about wet weather, continued Chinese soybean buying, fresh inflows of investment into the commodities arena and bullish technical developments all propelled the grains and oilseeds markets sharply higher.
Dec corn ended the week 26 ½ cents better, Nov soybeans ended 37 ¾ higher, and Dec wheat ended 25 ¼ higher. Soymeal and soyoil prices also made strong advances, even in the face of demand worries stemming from the Swine flu pandemic.
Corn's performance on the week was impressive, but the up-move was driven primarily by a combination of strong technical interest and general commodity market buying rather than by real end-user consumption interest. Certainly the wet weather has played a supportive role, as farmers in Illinois and the Eastern part of the Corn Belt contend with wet fields, but end-user profit margins are already razor-thin at best so the higher corn goes the less real demand we'll see.
This to us suggests the strength will not last long, and so we strongly suggest the farmers view this strength as a nice opportunity to get caught up on sales and hedges. The technical component of corn's rally can't be overlooked. As you can see in the chart below, prices broke out of the recent wedge formation to the upside to trigger a wave of automated follow-through buying.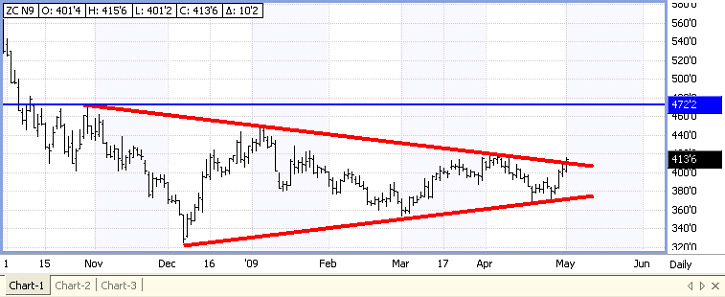 Such a development will have been widely acknowledged and will almost certainly lead to some follow-through interest in the sessions ahead. However, it is the nature of technical buying to be short lived. Once the buy signals have been hit, they stop. And then what? Well, without real end-user interest there's a good chance prices will fall again – especially if the weather outlooks improve enough to get farmers planting again.
In all, we saw a very large amount of farmer selling take place today, and encourage more of it in the days ahead.

These are good prices, so scale up your selling and take advantage of it before gravity kicks in and worries about the state of real demand start to make the (large) speculative longs nervous.
The beans were the complex leader all week, and look set to remain the main attraction for a while longer yet. Last week's chatter about imminent shipment cancellations by China proved unfounded, and even the prospect of mass hog liquidations due to Swine flu couldn't keep the market down.
July prices surged a mighty 57 cents on the week, and the July/November spread closed out the week at $1.20 as concern about declining US inventories amid strong Chinese buying interest sparked panic buying and only patchy selling.
There was talk of continued Chinese buying interest on either side of Thursday's strong export sales report (30.7 million bushels of old crop and 12.3 million new crop), and China's presence in the bean market in particular remains the dominating force here. That country's recently announced stimulus package has the potential to impact nearly all commodities markets, but the beans have a particular sensitivity right now given the perception of tight US inventories and the continuing absence of export competition from Argentina.
Given the strong technical signals and consistent trader buying on the close, we can't rule out more gains next week. But there's always a limit to what any one nation or buyer will pay, and with July prices now nearly $1.50 a bushel higher than where they were on April 1st, we have to wonder how their appetite for beans is holding up.
We're expecting more strength, but again recommend farmers use these attractive prices as opportunities to book sales and place hedges. If China steps away as a buyer even for one week, this market will look awfully bloated and heavy.
A rising tide lifts all boats. Chicago December wheat's surge to close out the day more than 32 cents higher and 25¼ cents higher on the week had all the hallmarks of technically-inspired buying/short covering and general commodity fund interest. This market simply lacks a compelling fundamental story right now, as even though we've had the odd patch of grower troubles in the US and other regions, overall conditions are improving and World stockpiles are generally trending higher following a decent 2008 global crop and a subdued demand environment.
This leads us to suspect, once again, that the current price strength will be only temporary, so we strongly encourage farmers top up sales into any further rallies.
Go to

http://www.ehedger.com/sign-up/

for a free two-week trial that includes our hedging recommendations, trades of the day, market recaps or to simply open an account.
Trading commodity futures and options involves substantial risk of loss and may not be suitable for all investors. The market information contained in this message has been obtained from sources believed to be reliable, but is not guaranteed as to its accuracy or completeness. Market information may not be consistent with current or future market positions of E Hedger, its affiliates, officers, directors, employees, or agents. Recipients assume the risk of reliance on and indemnify and hold E Hedger harmless for any and all losses, costs, or tax consequences incurred as a result of their use of market information.