Published on:
17:15PM May 26, 2009
| | | |
| --- | --- | --- |
| July 09 Corn | | |
| Dec 09 Corn | | |
| July 09 Beans | | |
| Nov 09 Beans | | |
| July 09 Wheat | | |
| July 09 KC Wheat | | |
| July 09 Min Wheat | | |
| July 09 Meal | | |
| July 09 Oil | | |






          Soybeans closed higher, corn and wheat closed mixed.   Better than anticipated planting conditions over the weekend weighed on corn prices. Planting progress came in as expected. Corn was 82% planted versus 86% last year and 93% average. Soybeans were 48% planted versus 49% last year and 65% average. Estimates were for corn to be 80-85% planted and soybeans to be around 50% planted. Spring wheat was 79% planted versus 97% last year and 95% average. This is still behind pace, but was a nice improvement from last week's 50% planted figure. Corn had a late rally, so it wouldn't surprise me to see corn prices lower overnight in response to these figures. With over 80% of the corn now planted and favorable weather seen for the second half of this week and next weekend, we could see corn prices setback. Obviously the weather could still change, but the current forecast should help planting wrap-up in most areas. Once the crop is planted, the next important report will be the June 30th stocks and acreage report. This will be a very important report. With the crop being planted late, the corn market will be watching that report very closely to see if any additional acres were lost. However, with the report is still a month away, the corn market could be due for a nice pullback in the meantime.
            The soybean market is still be driven by old crop fundamentals and the "roll". Basis levels remain very firm and Chinese demand remains strong. This is keeping old crop soybeans supported. At the same time, the funds are rolling long positions from old crop to new crop. This has pressured old crop soybeans and supported new crop soybeans. Once the roll is over, we could see new crop soybeans have a nice correction also. As long as planting conditions remain favorable, new crop soybeans could be under pressure heading into the June report. It seems likely that soybean acres will increase in the next report. The big question will be by how much.   Right now, the Nov. contract looks very expensive. November soybeans are the highest priced contract in the '09-10 crop year. November soybeans are 10-cents higher than May 2010 soybeans and 25-cents higher than July 2010 soybeans. Since it is unlikely that we will "run out" of soybeans in November, it makes sense for producer to sell during this timeframe rather than for spring or summer delivery.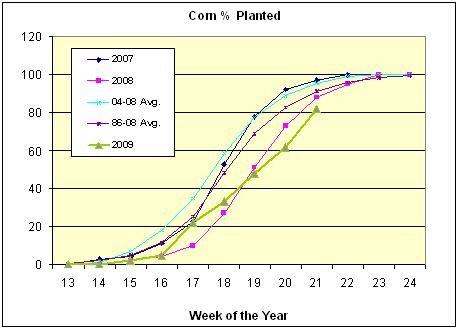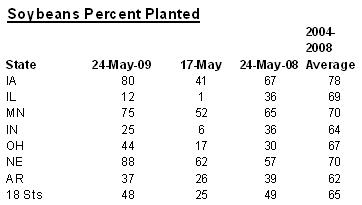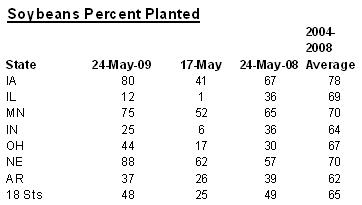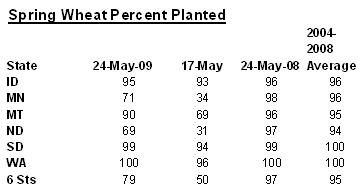 Go to

http://www.ehedger.com/sign-up/

for a free two-week trial that includes our hedging recommendations, trades of the day, market recaps or to simply open an account.
Trading commodity futures and options involves substantial risk of loss and may not be suitable for all investors. The market information contained in this message has been obtained from sources believed to be reliable, but is not guaranteed as to its accuracy or completeness. Market information may not be consistent with current or future market positions of E Hedger, its affiliates, officers, directors, employees, or agents. Recipients assume the risk of reliance on and indemnify and hold E Hedger harmless for any and all losses, costs, or tax consequences incurred as a result of their use of market information.