Published on:
16:23PM Apr 03, 2014
Grains settled higher on Thursday rebounding from Wednesday's losses.  The market choppiness is a product of uncertainty, mainly in the old crop soybeans.  We have sold roughly 105 million more bushels of beans than the USDA has in their final demand estimates.  When we are only expecting a final carryout of 140 million bushels being oversold means we can't just lower that carryout.  These extra sales will either need to be rolled into the following crop year or another aspect of the supply/demand table will have to get adjusted (or a combination of both).  With the record large South American crop we could see easily see more soybeans imported.  Or we could see crush demand slow from price rationing. So far we haven't seen enough of either to make the USDA numbers fit and that is why there has been such a rush to buy old crop soybeans.  Does that mean we should also see November soybeans rally?  These are two completely different crop situations.  New crop soybeans are projected to get a record 81.5 million acres in the US this year and there are still acres unaccounted for which means this number can grow.  South American soybean production is expected to top last year's record crop by 8%.  The world stocks-to-use ratio is projected to be above 25% which is clearly abundant.  All signs point to a stocks build in 2014-2015.  Should November soybeans add risk premium just because the old crop contracts are rallying?  Barring any weather problems this summer we believe November soybeans are overpriced above $12.00 and for that reason we want to remain well hedged heading into the planting window. The next large report to watch for is the April 9th WASDE which will have updated South American production estimates as well as US supply and demand estimates. For more marketing information please contact EHedger at 866-433-4371.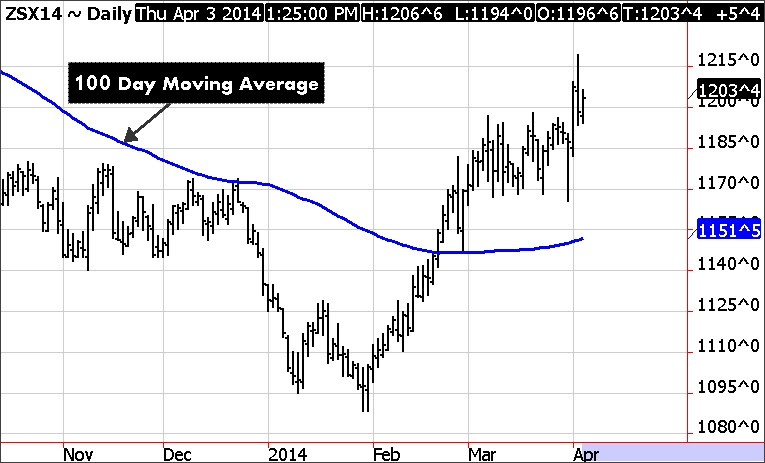 Sign up for our Market Commentary for our hedge recommendations.

EHedger | 866.433.4371
Premier full service commodity brokerage offering risk management services for the agricultural sector as well as professional traders.
Trading commodity futures and options involves substantial risk of loss and may not be suitable for all investors. You should carefully consider whether trading is suitable for you in light of your circumstances, knowledge and financial resources. The market information contained in this message has been obtained from sources believed to be reliable, but is not guaranteed as to its accuracy or completeness. Market information may not be consistent with current or future market positions of EHedger LLC, its affiliates, officers, directors, employees or agents.
---