Published on:
16:02PM Jul 14, 2014
Corn was higher on Monday, breaking its 9 day losing streak.  Soybeans also rallied, breaking the 10 day streak.  Wheat was the upside leader, finishing 11 cents higher in September and 35 cents higher to close the July contract.
The rally basically recouped the losses from Friday's WASDE report but markets are still well off their highs for 2014.  Three months ago December corn was posting a high of $5.17 and here we are 25% below that level at $3.88 ¼.  Surprisingly the funds haven't given up on their corn longs just yet.  Their net long position actually grew from the week prior by 5,411 contracts and sits at 107,600 using futures and options combined.  The managed money soybean long has declined sharply in the last 3 weeks however and is only 2,142 using futures/options.  Last year the managed money actually built a sizable net short corn position before the year was over, we will see if this trend repeats itself in 2014.
Most analysts are projecting record US corn and soybean crops this year which will continue to limit any upside potential until the next weather event comes along.  The problem for corn is that we have already entered the critical stages and it will be hard for any meaningful losses to occur during the remainder of the growing season.  Soybeans are still up in the air, but the June 30th acreage report has given the market plenty of cushion to still build a meaningful carryout.  The market will be watching the early August forecast very closely for direction.
Corn ratings were 76% good-to-excellent and soybeans were 72%, both very favorable.  Corn is 34% silking compared to 33% as the 5 year average.  Soybeans are 41% blooming compared to 37% on average.  For the full report please visit the following link: http://usda.mannlib.cornell.edu/usda/current/CropProg/CropProg-07-14-2014.pdf
For now we believe the path of least resistance still remains downward but we would be on the lookout for dead-cat-bounce opportunities to sell again.  We have a few gaps left above the market and still have plenty of growing year left.  For those of you who wish to catch up on corn and soybean hedging, we would put scale up orders between here and the gap fills going back to the 4th of July weekend.  That level is $4.14 ½ for Dec corn and $11.32 ¾ for Nov beans.
December Corn
November Soybeans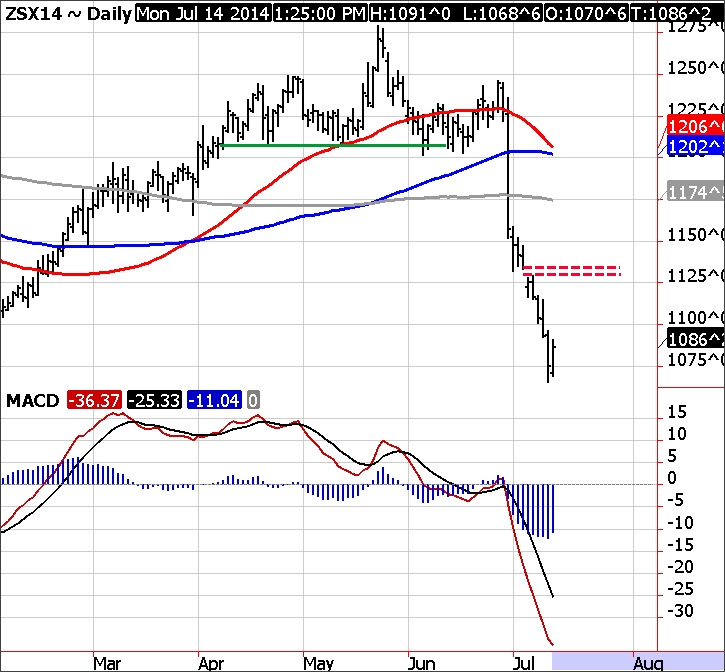 EHedger | 866.433.4371
Premier full service commodity brokerage offering risk management services for the agricultural sector as well as professional traders.
Trading commodity futures and options involves substantial risk of loss and may not be suitable for all investors. You should carefully consider whether trading is suitable for you in light of your circumstances, knowledge and financial resources. The market information contained in this message has been obtained from sources believed to be reliable, but is not guaranteed as to its accuracy or completeness. Market information may not be consistent with current or future market positions of EHedger LLC, its affiliates, officers, directors, employees or agents.
---