Published on:
15:48PM May 28, 2014
Corn and soybeans retraced some of Tuesday's losses to close modestly higher while wheat was lower again.  The crop progress report showed corn at 88% planted and soybeans at 59%, both at or above the 5 year average.  Despite the rebound in planting pace and a favorable forecast the market found late-session buy orders flood the market to close the products higher. For corn today's close marks a continuation of the lower lows and lower highs pattern we have seen for the past 3 weeks.  We are coming to a point where we could see another decent market move on a breakout of the pattern.
December Corn Chart
While December corn looks like it is on a path to take out the contract low at $4.35, November soybeans are still trading near their 2014 high. New crop soybeans have steadily gained on new crop corn since the March 31st Planting Intentions Report despite the favorable outlook for soybean acres.  The current ZSX14/ZCZ14 ratio is 2.65 to 1, historically very high for this time of year especially considering the USDA carryout projections.  This is not to mention that there were still unaccounted for acres in the March report which means we could see another 2+ million bean acres add to our abundant carryout projection before it is all over.  The reason for this spread "anomaly" is not exactly known other than we are coming off of a very tight supply situation in the US this year and the market looks at November soybeans as being "cheap" to July.  The flaw in that theory is that they are in completely different crop year and supply situations.  As we have discussed before, world soybean carryout-to-use ratio is projected by the USDA at nearly 30%.  US carryout is projected at nearly 10%.  We have never had world stocks this large and the last time the US carryout was listed above 7% we were trading near $9 a bushel.  Of course the growing season will have to remain normal for us to achieve these numbers but that should mean risk premium will start to come out of the market if normal weather prevails.  For now our outlook remains negative especially for the soybean complex given the USDA projections and favorable conditions.
For more commentary from EHedger, please sign up using the link below. Or call an EHedger broker at 866-433-4371, have a great week!
November Soybeans / December Corn Ratio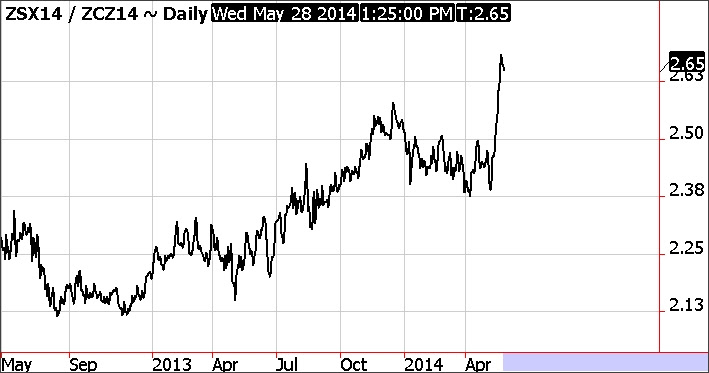 EHedger | 866.433.4371
Premier full service commodity brokerage offering risk management services for the agricultural sector as well as professional traders.
Trading commodity futures and options involves substantial risk of loss and may not be suitable for all investors. You should carefully consider whether trading is suitable for you in light of your circumstances, knowledge and financial resources. The market information contained in this message has been obtained from sources believed to be reliable, but is not guaranteed as to its accuracy or completeness. Market information may not be consistent with current or future market positions of EHedger LLC, its affiliates, officers, directors, employees or agents.
---