Published on:
18:42PM Jun 21, 2011
Grains finished sharply higher with new crop corn leading the way. December corn finished 19 ¾ cents higher at $6.80 ¼, November soybeans finished 14 ¼ cents higher at $13.49 ¾, and December wheat finished 9 cents higher at $7.54 ¼.    
The July-December corn spread is back to levels not seen since before the October 2010 Supply and Demand Report. The spread is trading at 27 ¼ cents premium July over December when it was as high as $1.33 ½ premium in February.
Chart: July-Dec Corn Spread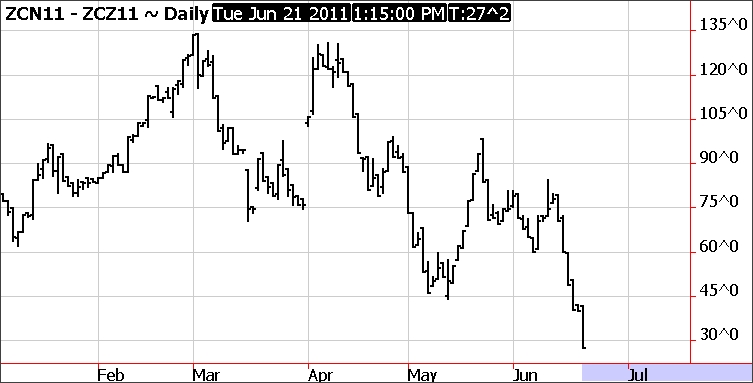 Despite the bear spreading, December corn still gained heavily on the day. Part of the rally is just short covering after last week's heavy break. The longer term forecast is calling for a ridge in the Corn Belt. We will update you with any developments to the forecast.
With the June 30th report coming out next Thursday, we could likely see more choppy days just like today. The funds are still loaded up with long positions in corn and soybeans. Managed money has reduced their long Chicago wheat positions substantially over the last couple of months. 
Please call an EHedger Broker if you have any questions.
Best Regards,
EHedger
For a free trial of EHedger services including the morning automated phone call, daily afternoon market commentary, and/or a free consultation, please contact EHedger at 866-433-4371. You can also visit us at
www.EHedger.com
Trading commodity futures and options involves substantial risk of loss and may not be suitable for all investors. You should carefully consider whether trading is suitable for you in light of your circumstances, knowledge, and financial resources. The market information contained in this message has been obtained from sources believed to be reliable, but is not guaranteed as to its accuracy or completeness. Market information may not be consistent with current or future market positions of EHedger LLC, its affiliates, officers, directors, employees, or agents.