Published on:
17:19PM Jun 20, 2011
Grains were mixed today with wheat continuing its selloff. July corn finished ¼ cent higher at $7.00 ½, July soybeans up 2 ¾ cents at $13.35 ¾, and July wheat down 13 cents at $6.59 ¼.   
Today's trading action was much like last weeks. Grains have been liquidating, especially wheat. Corn seems to want to stay supported at $7, but every day that wheat is sharply lower there is a prospect that it will take feed demand away from corn. The Corn-Wheat spread is back to 40 cents. The variable storage rate has put a large premium in the deferred wheat contracts and is also part of the fundamental reason July wheat has been allowed to get such a discount to July corn. If wheat continues its downtrend, it could pull corn down with it. July wheat still remains below the huge technical level (see chart).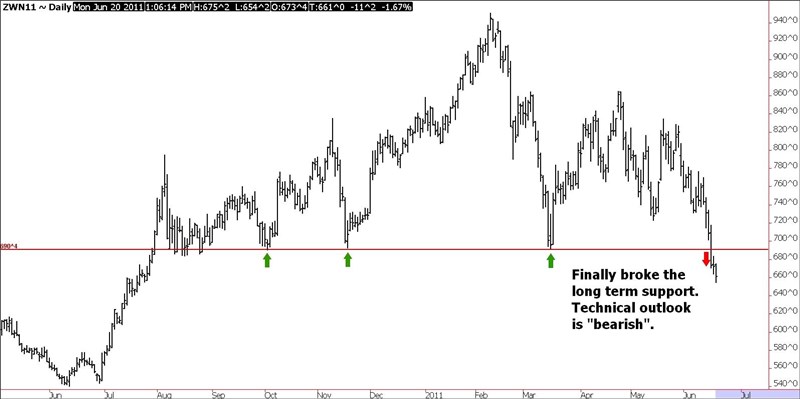 Crop progress shows corn at 97% emerged compared to 99 percent on average. We gained another percent in the good/excellent category putting corn at 70%. Soybeans jumped to 94% planted, which is above the 5-year average pace of 93%. Soybean conditions also gained a percentage point in the good to excellent now to 68%. Winter wheat is now 31% harvested compared to the 5-year average of 22%.
Next week we have the June 30th report. We have our monthly webinar scheduled for tomorrow morning at 9 am. We will give a more in depth analysis of current market fundamentals. We will also be displaying the latest 2012 hedge recommendations in a more detailed explanation. Have a great week!
For a free trial of EHedger services including the morning automated phone call, daily afternoon market commentary, and/or a free consultation, please contact EHedger at 866-433-4371. You can also visit us at www.EHedger.com
Trading commodity futures and options involves substantial risk of loss and may not be suitable for all investors. You should carefully consider whether trading is suitable for you in light of your circumstances, knowledge, and financial resources. The market information contained in this message has been obtained from sources believed to be reliable, but is not guaranteed as to its accuracy or completeness. Market information may not be consistent with current or future market positions of EHedger LLC, its affiliates, officers, directors, employees, or agents.