Published on:
15:34PM Nov 14, 2010
Grains fell sharply today dropping "limit down" for corn and soybeans.  The weakness coming from outside markets pushed Dec corn down 30 cents today and January beans down 70 cents.  Synthetically they were trading a few cents below their settlements.  December wheat followed lower finishing down 34 ½ cents.
This selloff was mostly attributed to news that China may be raising interest rates in the near future to fight inflation.  Overnight the Chinese markets traded limit down at one point before finishing sharply lower.  This of course quickly spilled over into our markets and in the overnight session grains fell abruptly. 
At noon the funds were net sellers of about 20000 contracts of corn and 12000 contracts of soybeans. 
Exports were out today but were rather overshadowed by last night's news.   Export sales were 832,000 MT's all wheat, 628,600 MT's of corn, and 929,800 MT's of soybeans.  This was slightly lower than expected for beans and at the upper end of the estimates for corn and wheat.
We wouldn't be surprised to see a further setback going into the end of the year.  Many times you see a selloff between now and the holiday's as traders close out positions and lighten up before years' end.  The lower end of the December corn gap is at $5.28 ¼ and is seen as a technical target and support.  As you can see from the included chart we have started to fill the gap today. We are only 6 cents away from filling the gap so it shouldn't be very hard to reach.   
For Sunday as it stands right now it looks like we will open lower, of course many things can change over the weekend.  Corn and soybeans will both have expanded limits Sunday night and Monday.  Corn limits will go to 45 cents and soybean limits will go to $1.05. We recommend remaining with our current hedge recommendations.  Have a great weekend!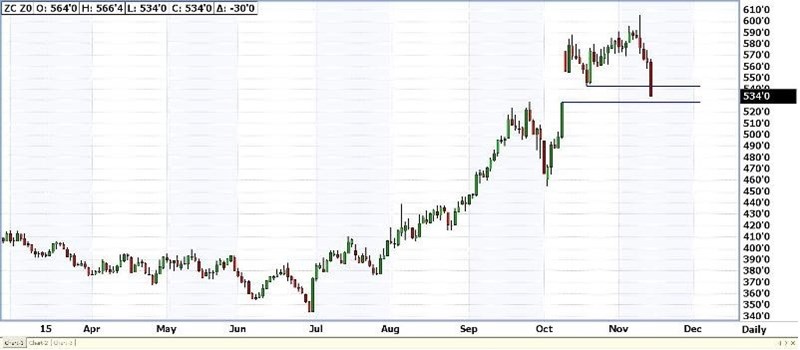 Stop Guessing & Start Marketing

Click on icon above for a 2 week Free Trial of EHedger's Premium Reaserch Package & Free Rick Analysis Snapshot of your farm.
EHedger
Trading commodity futures and options involves substantial risk of loss and may not be suitable for all investors. The market information contained in this message has been obtained from sources believed to be reliable, but is not guaranteed as to its accuracy or completeness. Market information may not be consistent with current or future market positions of E Hedger, its affiliates, officers, directors, employees, or agents. Recipients assume the risk of reliance on and indemnify and hold E Hedger harmless for any and all losses, costs, or tax consequences incurred as a result of their use of market information.