Published on:
18:24PM Feb 16, 2011
Grains settle mixed but off their lows.  December corn finished ½ cent higher, November beans finished 4 cents lower, and December wheat finished 3 ½ cents lower.
 
Monday's key reversal in December corn has pushed corn below the trendline (see chart below). The next technical target would be $5.67.  We are getting more aggressive on new crop sales.  Please see new hedge recommendation to see the latest levels sold and call strategy.
 
Weekly export inspections.  Estimates for tomorrow morning:
 
Corn                 700-1400
Wheat               300-750
Soybeans         400-700
 
Cattle on Feed Average Estimate (Friday)
                                    Average            Range
On-Feed (Feb 1)            105.1                104-106
Placed in Jan                103.5                98-109.2
Marketed in Jan             100.6                99-103
 
 
The next WASDE report will be on March 10th.  After that, we will have the March 31st planting intentions report.  We want to be more aggressive on sales between now and then.  In fact, we want to consider the idea of getting all the way sold on guaranteed bushels right now, and re-own with call spreads.  I believe this recommendation would be best considered on an individual basis with your broker and with a close look at your breakevens/ROI's.  Many times we make highs in February, and we want to secure these levels while we are up here.  We would still want to keep upside in the market on these bushels with call strategies.  Please call your broker to discuss a specific strategy for your operation.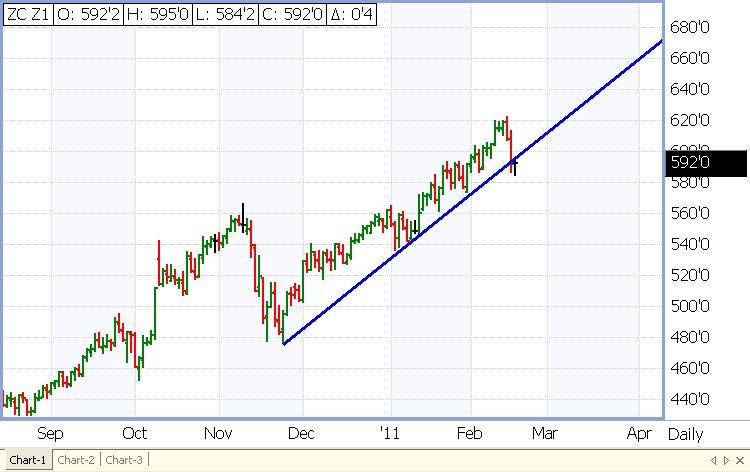 Stop Guessing & Start Marketing

Click icon above for a Free Trial of EHedger Premium Research package and watch the AMMO Demo video.
Trading commodity futures and options involves substantial risk of loss and may not be suitable for all investors. The market information contained in this message has been obtained from sources believed to be reliable, but is not guaranteed as to its accuracy or completeness. Market information may not be consistent with current or future market positions of E Hedger, its affiliates, officers, directors, employees, or agents. Recipients assume the risk of reliance on and indemnify and hold E Hedger harmless for any and all losses, costs, or tax consequences incurred as a result of their use of market information.