Published on:
18:55PM Feb 09, 2011
Wednesday the Feb WASDE report sparked some fireworks in the grains.  March corn finished 24 ¼ cents higher, March soybeans 16 ¾ cents higher, and March wheat 11 ¾ cents higher.
 
Before we even reached the report, the overnight markets were trading sharply higher.  Most of this was from continued fears of the Chinese wheat crop losing production from dry weather.  It is now estimated that over 6 million hectors may be affected in the region (this is out of 14 million hectors).  
 
The USDA report was basically neutral for soybeans and wheat, but bullish for corn. U.S. corn carryout was lowered to 675 million bu (market estimated 736).  On top of a bullish US number, the world carryout was expecting 127 MMTs, and the Feb report pegged the world number at 122.5 MMTs. 
 
I have included an outline of the report below.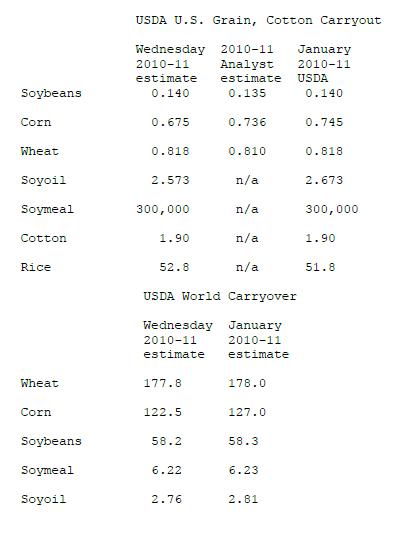 So where do we go from here?  The bullish report will likely continue to support grains on breaks.  Really the report only puts more emphases on the fact that we need all the acres we can get in order to replenish stocks.  If China comes in to start importing an estimated 6-9 MMTs of Corn, we could see even more upside pressure on grains.  On the other hand, we may be getting a little ahead of ourselves as the market is well overbought at this level and eventually we will have to start heavily cutting into demand.  As a producer, we haven't been able to sell grains at these prices since 2008.  We aren't even into March yet. Between now and the March 31st planting intentions report, we could be a little more aggressive on selling guaranteed bushels, playing into the hype, especially since we are now above $6.  Even though I mentioned we are fundamentally friendly these markets, things can change on a dime when we have the market so loaded up with longs.  We can also use option strategies to look at ways of making those cash sales, but still retaining some sort of ownership on the board.  Please call your broker to discuss an individualized plan if you have not already done so.  Otherwise, we like remaining with current hedges.
Stop Guessing & Start Marketing

Click icon above for a Free Trial of EHedger Premium Research package and watch the AMMO Demo video.
Trading commodity futures and options involves substantial risk of loss and may not be suitable for all investors. The market information contained in this message has been obtained from sources believed to be reliable, but is not guaranteed as to its accuracy or completeness. Market information may not be consistent with current or future market positions of E Hedger, its affiliates, officers, directors, employees, or agents. Recipients assume the risk of reliance on and indemnify and hold E Hedger harmless for any and all losses, costs, or tax consequences incurred as a result of their use of market information.