Published on:
17:58PM Mar 16, 2011
Wednesday grain markets finished mixed with beans finishing higher and old crop corn sharply lower.  May corn was certainly the downside leader today down 19 ½ cents on the day.  December corn actually finished higher on the day up 1 ¼ cents.  This was mostly from liquidation as many of the bigger traders are bull spread and they were selling the front month and buying the back months.  For soybeans the opposite happened, the front month was the market leader and the back months were lagging.
 
Outside markets were again sharply lower over uncertainty of the nuclear situation in Japan.  At one point the Dow Jones was 300 points lower on the day.  This is the second day in a row we had a major selloff in the stock market and already the overnight equity futures are lower. 
 
We are still seeing investment money flow to "quality" assets like the US Dollar and Treasuries and out of equities/commodities. The big question is how much more will the funds liquidate?  They are still holding sizable positions, and plenty of room for the market to move lower if they continue to sell.  I have included a chart of May corn and December corn with their 200 day moving averages.  This is to show where major underlying technical support would likely rest.  Just looking at these for indicators shows us that for old crop we have potentially another 60-75 cents worth of downside risk, and another 50 cents for new crop. 
 
On a more positive note, liquidation is likely to slow early next week as traders gear up for the March 31st report.  On the report, nobody truly knows what the USDA will write down, but the consensus is that we will see an increase in acres, mainly in corn and cotton.  We can also speculate that they may increase stocks.  We have a good idea of what ethanol use will be, but we don't have a real solid reading on what feed usage will do.  So, downside market risk can be associated with increased acres, as well as increased carryout. 
Now that we are well below the spring federal crop insurance levels, we want to concentrate on re-owning more of the sales we have made.  We are nearing the price we have set to get the second round of call spreads bought. If you are behind on the current recommendation, or are unsure about where you stand, please call your broker to go over Ammo and help devise a plan before making any quick decisions to sell.  In some cases, it may make more sense to wait to make extra sales due to the amount of crop insurance, price, etc.  Please contact your broker to get a more specific recommendation for your operation.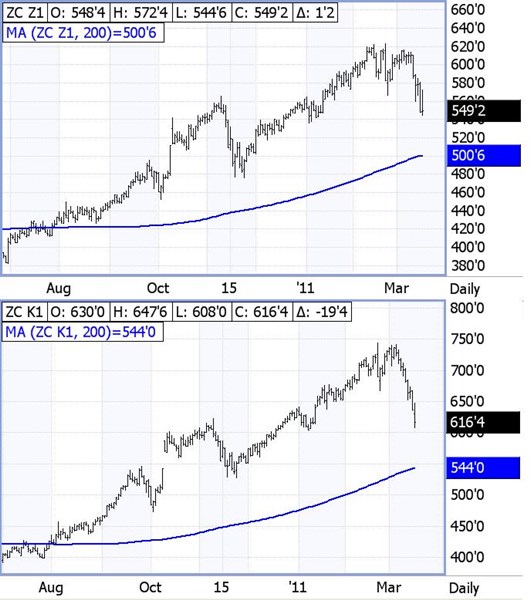 Stop Guessing & Start Marketing

Click icon above for a Free Trial of EHedger Premium Research package and watch the AMMO Demo video.
Trading commodity futures and options involves substantial risk of loss and may not be suitable for all investors. The market information contained in this message has been obtained from sources believed to be reliable, but is not guaranteed as to its accuracy or completeness. Market information may not be consistent with current or future market positions of E Hedger, its affiliates, officers, directors, employees, or agents. Recipients assume the risk of reliance on and indemnify and hold E Hedger harmless for any and all losses, costs, or tax consequences incurred as a result of their use of market information.