Published on:
17:11PM Mar 08, 2011
Tuesday grains had a large setback as traders liquidate positions ahead of the March Supply and Demand report.  The old crop contracts had the largest drops with May corn losing 12 cents, May beans down 13 cents, and May wheat down 21 cents.  This is especially significant for wheat given the May-Dec Chicago spreads are hitting new lows at 86 ¼ cents under.

The USDA did announce the sale of 300,000 MTs of hard red wheat to Iraq for 10-11 delivery.  Despite this sale announcement wheat was the downside leader today. 

The January and February USDA S&D reports have both been rather significant market movers.  The February report showed another decrease in expected corn carryout from an increase in bu for used for ethanol.  The February report also kept the expected soybean carryout unchanged at 140 million bu.  For Thursday analysts guesses are averaging 141 million for beans, with the high end of the range at 181 million.

We could see changes in US numbers from the demand side of the equation, but surprises (market movers) could more likely be attributed to changes in South American production.  Everyone is still wondering what they will write down for Argentine and Brazilian corn/bean production.  Currently the market is expecting an increase in production from Brazil and may have been part of the reason for the recent resistance.  If we do see large production numbers confirmed out of South America this should take some pressure off the US acreage battle.  For now traders still have plenty of uncertainty premium built into this market and we like to secure these prices for guaranteed bu.

From a technical standpoint, the longer term moving averages are still well below the market.  First retracement for New Crop Corn is at $5.31 (see chart).  If the technicals start to turn bearish, we could see fund liquidation.  Comparatively the market has plenty of room to move if we get a bearish report or something to trigger long liquidation.

For those producers who are behind on cash sales we continue to recommend getting caught up before Thursday's report and re-owning the market using bull call spreads.  Each producer should plug this strategy into their AMMO program to see how it would affect their farm's profitability. If you have any questions please don't hesitate to give us a call and we will be more than happy to assist you.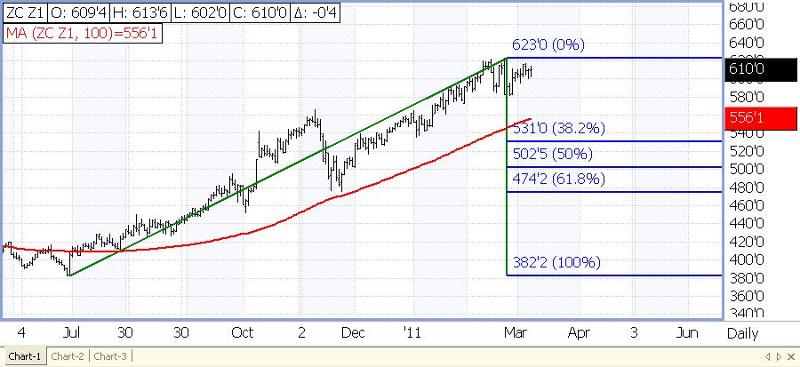 Stop Guessing & Start Marketing

Click icon above for a Free Trial of EHedger Premium Research package and watch the AMMO Demo video.
Trading commodity futures and options involves substantial risk of loss and may not be suitable for all investors. The market information contained in this message has been obtained from sources believed to be reliable, but is not guaranteed as to its accuracy or completeness. Market information may not be consistent with current or future market positions of E Hedger, its affiliates, officers, directors, employees, or agents. Recipients assume the risk of reliance on and indemnify and hold E Hedger harmless for any and all losses, costs, or tax consequences incurred as a result of their use of market information.