Published on:
15:34PM Mar 21, 2014
Soybeans and wheat closed with double digit losses on Friday while corn stayed near unchanged.  This appears to be a liquation of the inter-commodity spreads ahead of the weekend.  Ever since the January report there has been a noticeable change in fund positions in corn, wheat, and soybeans.  This can be viewed in the following chart which includes one long wheat, one long soybean, and two short corn all in the front month contracts.
Daily Continuous Chart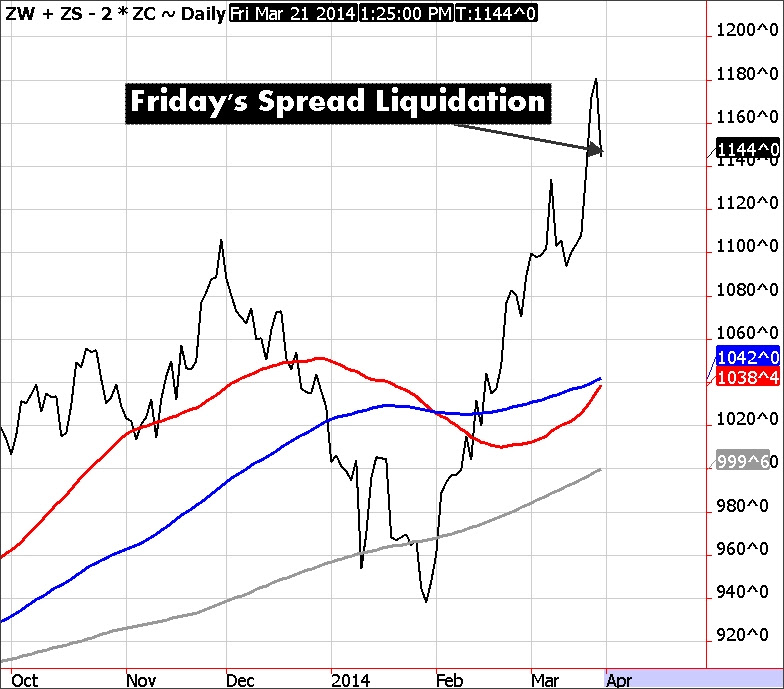 Corn's strength was likely derived from the large purchase by Egypt on this morning's 8:00am announcements.  They bought 340,000 MTs of corn for old crop delivery.  Our export sales pace has remained rather strong for corn and probably makes up for the expected decline in feed/residual from the current lofty USDA demand estimates.  The Reuters and Dow Jones poll will not be released until next week. Until the reports are released on the 31st we expect markets to remain in their current ranges.  If you have any questions please give us a call.  Have a great March Madness weekend!
Managed Money Position Changes through Tuesday, March 18th (futures and options combined):
                      Net Position Change                                   Net Position
Corn:                  +18,299                                      +227,860 contracts (1.14 billion bushels)
Soybeans:           +52                                             +198,672 (0.99 billion bushels)
Wheat:               +13,521                                       +24,036 (0.120 billion bushels)
Sign up for our Market Commentary for our hedge recommendations.

EHedger | 866.433.4371
Premier full service commodity brokerage offering risk management services for the agricultural sector as well as professional traders.
Trading commodity futures and options involves substantial risk of loss and may not be suitable for all investors. You should carefully consider whether trading is suitable for you in light of your circumstances, knowledge and financial resources. The market information contained in this message has been obtained from sources believed to be reliable, but is not guaranteed as to its accuracy or completeness. Market information may not be consistent with current or future market positions of EHedger LLC, its affiliates, officers, directors, employees or agents.
---