Published on:
16:12PM Sep 04, 2014
November soybeans fell to $10.03 ¼, down 16 ¾ cents on the day on a large crop outlook as well as a strong US Dollar Index.  December corn was 5 ½ cents lower at $3.46 ½ and December wheat was also 5 ½ cents lower at $5.30 ¼.
Corn, wheat, and soybeans continue to post new contract lows which is probably forcing some long liquidation along the way down.  We know that as of last week the Managed Money and Large Reportable Spec traders were long roughly 131,792 contracts of corn while modestly short soybeans.  We see downside potential for both products as the earliest yield reports continue to run hot.  The other factor that is likely having an impact is the extreme dollar strength in the last few weeks.  The dollar index was up 93 points today at 83.82.  This put pressure on many dollar denominated assets today including grains.  We are approaching a significant level in November soybeans at $10.00.  Last few times we crossed below $10.00 was 2008 and 2009 and both of those years saw significant liquidation and price accelerations shortly after falling below this crucial level.  I have included the 2008 chart since it has some similar characteristics to 2014.  We had a limit down moving coming into that Monday, October 6th, 2008.  Granted this was during the financial crisis which certainly had an impact on commodities, but it is a good representation of how fast this market could break during a selloff.
For now we want to remain well hedged during this time since the world soybean supply looks adequate, and we are looking at record corn and soybean crops in the US.  Please call us if you have any questions about our recent hedge recommendations.  Have a great week!
November 2008 Soybeans
November 2014 Soybeans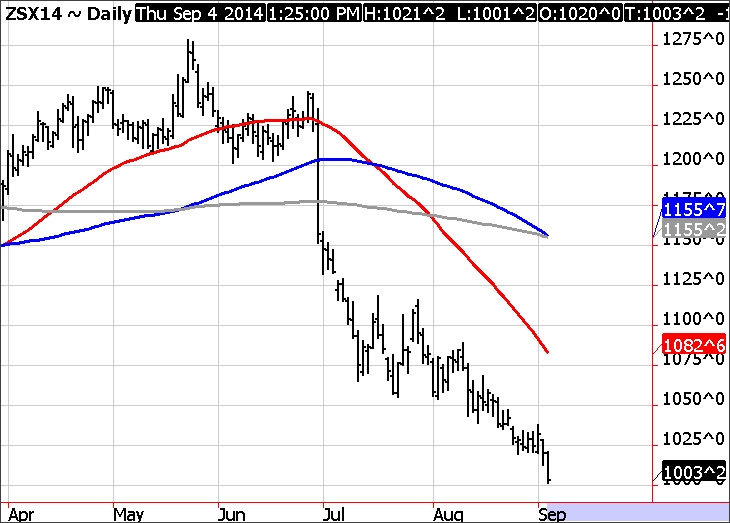 EHedger | 866.433.4371
Premier full service commodity brokerage offering risk management services for the agricultural sector as well as professional traders.
Trading commodity futures and options involves substantial risk of loss and may not be suitable for all investors. You should carefully consider whether trading is suitable for you in light of your circumstances, knowledge and financial resources. The market information contained in this message has been obtained from sources believed to be reliable, but is not guaranteed as to its accuracy or completeness. Market information may not be consistent with current or future market positions of EHedger LLC, its affiliates, officers, directors, employees or agents.
---