Published on:
15:59PM Apr 08, 2014
Grains settled higher on Tuesday with old crop soybeans leading the way.  There was some confusion toward the end of the day session when the electronic corn, wheat, and livestock futures stopped trading.  The CME group reported their technical error and motioned for the pit to handle the settlement process.  In the end May corn settled 7 ¾ cents higher at $5.07 and December corn was 7 ¼ cents higher at $5.13.  This was a large 4 cent swing in the May – Dec corn spread between the time electronic markets froze and the settlement of the pit.  Even though December corn settled at $5.13, it never traded there as far as the pit quotes are reporting, it was only a product of a spread sale on the final minutes in the pit. We expect the overnight December corn futures contract to open near $5.08 - $5.09 where they stopped trading.  Soybeans continued trading during this shutdown period and the May contract settled 18 ¼ cents higher at $14.82 ½ while the November contract was 9 ¼ cents higher at $12.17 ½.
Intraday chart of December corn: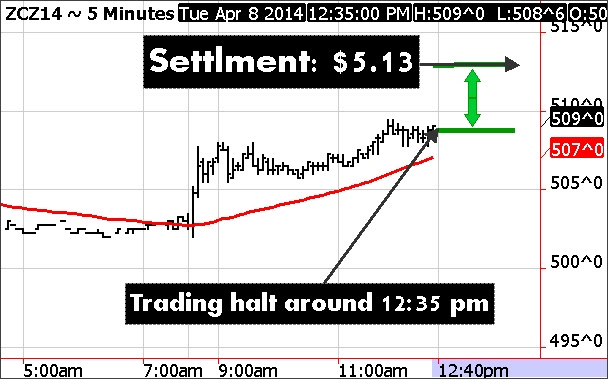 CIF basis was a bit stronger today for corn and slightly weaker for soybeans.  Yesterday the front end of the market was the weakest on heavy bearspreading, today it was the front end that led the way higher on heavy bullspreading (until the pit settlement of corn).
After the close the USDA released their weekly crop progress report.  Winter wheat conditions were reported at 35% good-to-excellent which is 1% less than they were at this time last year.  Cotton was 6% planted which is average and rice was 15% which is slightly below the average of 19%.  The USDA will start reporting the corn planting progress in next week's report.
WASDE REPORT TOMORROW
Traders are preparing for the USDA's WASDE report which will be released on Wednesday at 11:00am CST.  The report will include the typical monthly changes to the USDA's supply and demand estimates but most traders will be watching for the latest South American production estimates as well as projected final soybean demand.  Getting to our final domestic soybean carryout has been the biggest unknown factor for CBOT traders.  On last month's report the USDA raised soybean imports by 5 million bushes, raised exports 20 million, and lowered crush by 10 million resulting in a net carryout reduction of 5 million bushels.  Their total export demand estimate was 1.530 billion bushels.  Cumulative sales are already 103 million bushels more than this estimate at 1.633 billion bushels.  It is normal to expect a certain amount of these extra sales to get rolled to the following marketing year. Last year for example 46.2 million bushels were sold but not shipped.
Most project the USDA to account for the strong sales by raising their export estimate.  The recent Reuters poll has the average analyst projecting a final carryout of 139 million bushels which is 6 million less than the March estimate.  We doubt the USDA will report a dramatic change and will stick to a more gradual one as it did last month. We could potentially see another 5-10 million in imports and 10-15 million in export sales.
Corn export sales have been strong as well.  Cumulative sales are at 1.5894 billion bushels and the last WASDE report is guessing 1.625 billion.  The USDA is likely to raise this estimate again.  The average analyst believes the corn carryout will drop by 53 million bushels from the March estimate which will most likely come from higher exports.  However, any increase to exports will likely result in a drop in feed demand in our opinion since that is already inflated based on cattle and hog numbers.  Although we believe the feed estimate will ultimately drop, it may not be on this report.  The latest stocks report showed roughly 100 million bushels less than expected.  As we know from previous stocks reports these surprises can be from the amount bushels in transit at the time of count.  An accurate measure of the abundance of corn can be seen in the interior basis changes through the next few months.  At the end of the day we are still projecting a carryout near double of what we thought on this report last year.  This gives the market a larger margin of error when it comes to production changes.  This is also likely why the July – December corn spread is still below 0 when this time last year it was trading at 87 cents over!  I have included the average analyst estimates in the tables below. Have a great rest of the week!
Sign up for our Market Commentary for our hedge recommendations.

EHedger | 866.433.4371
Premier full service commodity brokerage offering risk management services for the agricultural sector as well as professional traders.
Trading commodity futures and options involves substantial risk of loss and may not be suitable for all investors. You should carefully consider whether trading is suitable for you in light of your circumstances, knowledge and financial resources. The market information contained in this message has been obtained from sources believed to be reliable, but is not guaranteed as to its accuracy or completeness. Market information may not be consistent with current or future market positions of EHedger LLC, its affiliates, officers, directors, employees or agents.
---