Published on:
15:46PM Oct 04, 2010
·         Trading limits will go back to 30 cents for corn tomorrow. 
·         Corn Stats: 37% harvested vs. 21% 5-year average.  93% mature vs. 79% 5-year average. Corn condition is unchanged from last week at 66% good to excellent vs. the 10-year average of 59%.
·         Soybean Stats: 37% harvested vs.  28% 5-year average.  88% dropping leaves vs. 85% 5-year average.  Soybean condition is up 1% from last week at 64% good to excellent vs.  the 10-year average of 56%.
·         Grain inspections were at the low end of estimates for corn, low end for soybeans, and high end for wheat.  The Stats Canada estimates are located in the chart below.
Corn traded as much as 10-lower today before finishing 5 ¾ higher. Soybeans and wheat both finished lower on the day. Last week's USDA announcement has many "longs" nervous as we head into the USDA report on Friday. Volume and open interest have been strong. Yields continue to be well above average in soybeans and average to well below in corn. Informa released their 2010 yield estimates for corn to be ultimately 158.7 bpa for corn and 44.7 bpa for soybeans.  FC Stone is estimating 159.2 bpa for corn and 45.8 bpa for soybeans.  We expect that national corn yield will come down but it will need to be fewer than 160 to be considered "friendly".  A yield below 158 could take us back to the highs. We expect the national soybean yield to rise sharply and would not be surprised to see a 47 or higher yield when everything is said and done. 
As we start the new quarter money is flowing out of ags and into metals/energy.  This was the opposite at the start of last quarter as money flowed out of metals/energy into ags.  Both corn and beans had "KEY" reversals on the weekly charts.  This is a very bearish formation and could trigger liquidation by the traditional funds.  We still have to get through the USDA Supply and Demand report, so expect a lot of volatility in October. With the 300 million bushel surprise on the Stocks Report, the corn market will need a bullish report next week to keep prices from sliding further.  The large trader/traditional funds are holding record long positions and another bearish surprise could trigger a massive sell-off.  So now that we are on a 60 cent break in corn, and with open interest coming off the highs, I expect us to find good support in the 4.40 – 4.50 area for December Futures, at least before we see the USDA Report.
Currently our recommendation stands that we are at 100% sold in 2010 corn and soybeans with upside potential in option strategies in-case we get any surprises on the report.  We are also 50% sold or protected in 2011 corn/soybeans with upside potential in the corn.  We recommend staying at these levels.
For those producers looking to catch up on the current recommendations, or if you would like additional coverage as we continue to progress through harvest, please get in touch with your broker.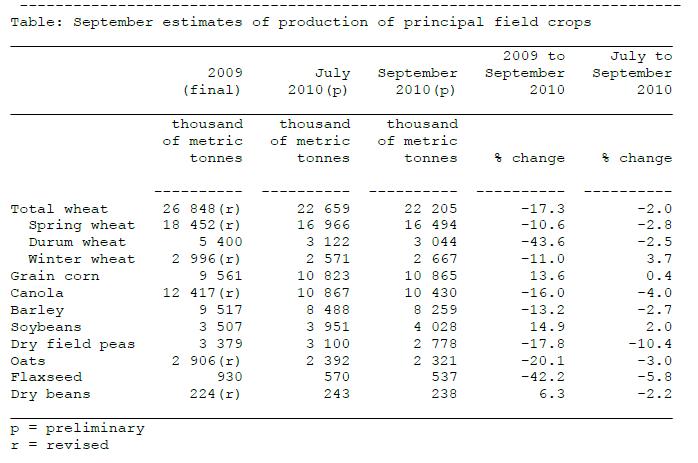 Get More From EHedger.
Our commentaries are just one part of our whole risk management service. Please go to http://www.ehedger.com/getmore.html for a free two-week trial of our full member website that gives you access to all our hedge and marketing recommendations, educational tools, market snapshots and much more.
Also learn about our acclaimed AMMO Program that helps producers optimize their marketing strategies using the premier tools and insights in the industry.
Get Organized. Get Ahead. Get EHedger
Trading commodity futures and options involves substantial risk of loss and may not be suitable for all investors. The market information contained in this message has been obtained from sources believed to be reliable, but is not guaranteed as to its accuracy or completeness. Market information may not be consistent with current or future market positions of E Hedger, its affiliates, officers, directors, employees, or agents. Recipients assume the risk of reliance on and indemnify and hold E Hedger harmless for any and all losses, costs, or tax consequences incurred as a result of their use of market information.