Published on:
09:47AM Oct 15, 2009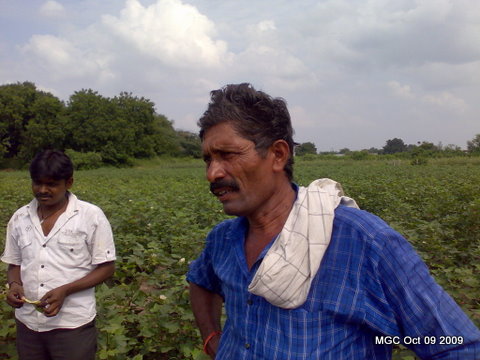 Alla SriRamaChandra Reddy (on the right in the blue shirt) has jumped from the frying pan of caterpillars in conventional cotton to the fire of mealy bugs in his Bt field. He is from a village in the Gajwel Mandal of Medak District in the southern Indian State of Andhra Pradesh.  His plight is not typical of many Bt farmers in the region because he does not suffer from any allergy when his genetically engineered crop is ginned. However, the drastic change in the pest complex he must battle can be seen for miles around. This is a primary reason for some pesticide and seed corporations thriving with bludgeoning bottom lines even as their customers writhe in despair.

The Bt bandwagon rolls on relentlessly and regardless of the tremendous hardships it wrecks on poor people at Ground Zero. Mealy bug management is alien to people who have cultivated field crops for cash over generations. Jassids and whitelies wait in the wings, ready to suck out what little life is left in the system. There should be no doubts about what the future holds for Bt in vegetables. Contact insecticides that can be easily washed off in running water will be replaced by systemic ones which will need considerable cooking to dissipate. Bt toxins will have undetected effects on people with immune pathologies. Jassids and whiteflies are no strangers to vegetables, though their tribes will increase manifold, even as mealy bugs inavde soils and make permanent presences painfully felt. It is party time for pesticide professionals though generic producers will be relegated to the background, as indeed will IPM.