Published on:
03:49AM Jan 03, 2010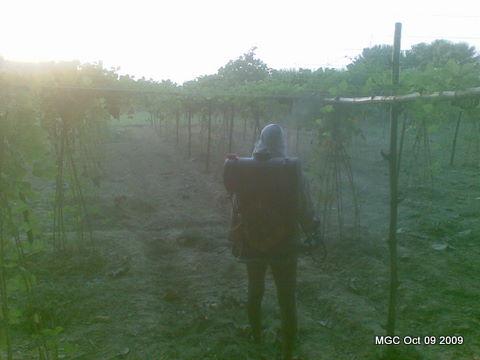 My photography is rusty. I could not get the setting sun over my shoulder because the far end of the cucurbits vine was wet. However, the pesticide spray drift is discernible in the photograph. The laborer had just shorts to wear, and I saw the deposits on his legs with dismay, once he had finished work.

"Well, I seem to be OK".

His laconic comment made light of my admonishment. His colleagues and the farm owner seem to enjoy both his mirth and my discomfiture.

This tragic incident is far from isolated in my experience. I worry most especially about children and women of child-bearing age who are exposed to pesticide spray drift.

The Indian media is full of automobiles and bathroom fittings from Germany. They all proclaim quality, precision engineering, and convenience. I cannot afford any of them, so I approached Agrotop for technical help with drift management with trepidation. The company has been kind enough to ship samples, and I must say that the results are simply amazing. Take a look for yourself.