Published on:
10:46AM Sep 03, 2009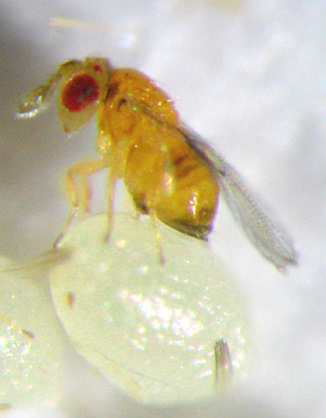 Photograph courtesy Project Directorate of Biological Control, Bengaluru, India
You can tell from her expression. Imagine being photographed from the business end of a microscope. This does not seem to bother the imperious lady. She is a parasite, but has no qualms about hijacking the eggs of others. It is not as though her spouse or she have any fertility issues. Rabbits would gape in awe as generations of Trichogramma multiply before your very eyes.  Caterpillar pests, similarly, can only watch helplessly as these parasites ruthlessly use their eggs as surrogate wombs.
One thing I love about these babes: they go about their work rain or shine. After all, a pregnant dame has got to do what a pregnant dame has got to do. No more runoff when there is a cloudburst after a chemical pesticide application. That said, Trichogramma has a kind of stereo effect on select pesticides. The latter deal with larvae, while parasites go after eggs. India started with a genotype that tolerates field concentrations of Endosulfan and has added a choice of other pesticides to the list over the course of time. I have personally seen Endosulfan-tolerant Trichogramma at work, and even my wife does not mind my saying that it was abiding love at first sight.
Rearing Endosulfan-tolerant Trichogramma can keep you up at night like any practicing obstetrician, but other than that it really is child's play. Throw in Chrysoperla and some honeybees, and you could have some recession-busting revenues on the way. Use a stock of Corcyra eggs to keep the parasites from having a go at pretty butterflies that you would like to protect. It beats looking after an aquarium and is more useful as well.
You have until the end of this month. Visit:
www.cdfa.ca.gov/phpps/PDEP/lbam/envimpactrpt.html
and tell Jim Rains that you are a slave of the Bandit Queen.