Published on:
12:49PM Apr 19, 2013
Now is the time to know your dairy's costs, have a plan and develop strategies to capture profitability.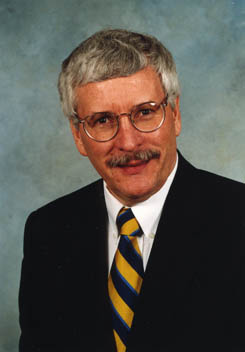 By Ron Mortensen, Dairy Gross Margin, LLC
Margins have improved. Margins have improved. That is the good news.
Margins show improvement in the first few months (June, July, August and September) compared to last month. The back months (October to March) did not improve much. Lower nearby corn and soybean meal prices (after the USDA's Grain Stocks report at the end of March) and upward movement in milk prices were the reasons.
Recently, milk has been steady to strong as global supply concerns finally have come to the forefront. Over the past six weeks, the market has focused more on the drought in New Zealand, and also Australia, and what shifts in global demand could be coming.
The charts below show past margins in blue and projected margins in pink. The first chart below shows the margin as of April 18, 2013. The second chart shows last month's margins as of March 26, 2013. Note the pink lines that are circled in red highlight the improvement in margins. These charts are calculated using 1,560 cwt. of milk, 20.5 tons of corn and 6 tons of meal.
How do you extend these margins to create better cash flow and profitability? Many of us who write on the marketing blog write about knowing your costs, having a plan and developing strategies. Now would be a great time to figure these things out. It's not a fun job, but the idea that some better opportunities have presented themselves should be motivation. It would be a very good use of the next rainy day.
Look at a plan of forward contracts for your milk, LGM-Dairy or CME milk options. For the feed side, you can use corn and soybean meal options to give you protection against rising feed costs. If you use LGM-Dairy with the appropriate amount of corn and meal, you will have some protection if prices move higher.
Chart as of April 18, 2013
 Chart as of March 26, 2013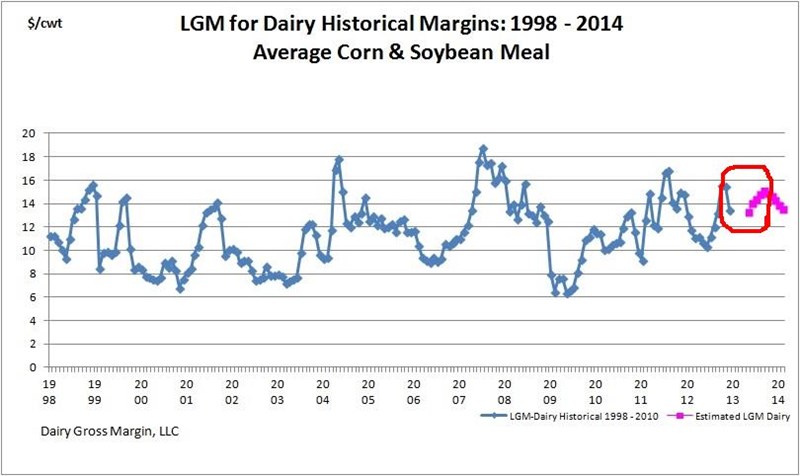 Ron Mortensen is principal of Dairy Gross Margin, LLC, an agency that specializes in LGM-Dairy products, and owner of Advantage Agricultural Strategies, Ltd., a commodity trading advisor. Contact him at [email protected] or visit his website.