Published on:
12:12PM Oct 08, 2012
In marketing, there is always a temptation to overreact, follow the herd or give in to emotions. It takes fanatically disciplined leadership to stick to goals and not pull back because you – or someone else -- second-guessed your decision.
By Mark Ludtke, Stewart-Peterson
We were at World Dairy Expo in Madison, Wis., last week, talking with dairy producers. The discussions, as expected, had to do with feed. It's on every producer's mind right now – either "How will I secure it?" or "What strategies can I use to manage the value of my inventory?"
And so, we've been having those conversations. And during the conversation, I usually pull out this chart:
Chart 1: Second Month Continuous Monthly Milk vs. Continuous Monthly Corn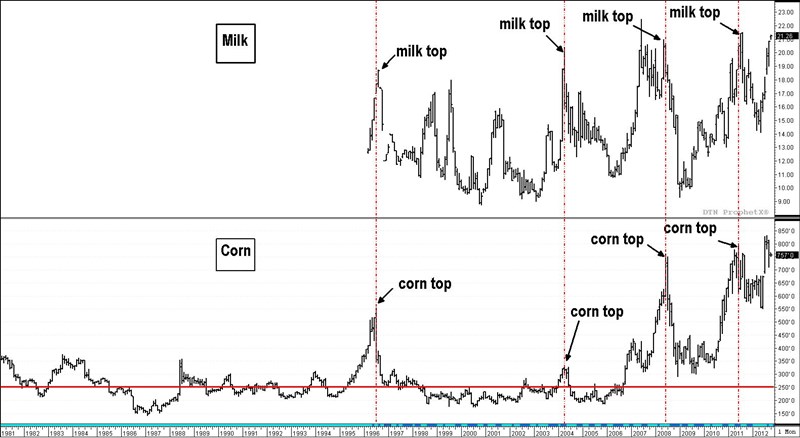 This chart shows the peaks and valleys of the corn price dating back to 1995, mirrored by the Class III milk price at the same time. Almost without exception, when the corn price has fallen apart, the milk price has quickly followed.
So, although feed dominates everyone's thoughts right now, we also have to be thinking about protecting milk. The risks are just too great to NOT think about milk, as the chart below shows. The typical downturn in milk ranges from about $6 to almost $12, with the average price decline being about $8.
Chart 2: Second Month Continuous Monthly Milk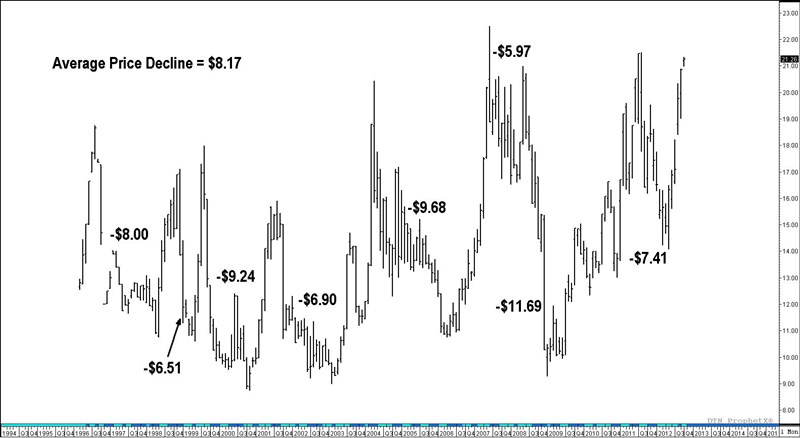 The question then becomes, "When should I act?" The conventional wisdom is that the milk price has to hold because feed prices are high. That is true to a certain extent. In our global marketplace, any number of things could bring the price of feed down again, and in this kind of rollercoaster world, it is possible that 2013 corn could trade in the wide range of $4-$12. That is such a huge range that incrementally pricing some 2013 milk, and then managing those positions as time goes on, is wise. This can only be done, however, if one is committed to a consistent, disciplined approach to price risk management. In this market, there is just too much risk in jumping in and out. You will never know if you are doing so at the right time.
If the constant up-and-down of markets has you weary, you are not alone. That's the gist I get from dairy producers I spoke with at World Dairy Expo. How will we as an industry respond? Will we allow ourselves to become battle-weary and vulnerable? Or will we confront the challenge head-on?
We can look to the enduring, sustainable businesses outside of the dairy industry for some role models. Jim Collins, who authored the popular business book Good to Great, has researched some of the world's best-known companies who have survived in chaotic environments, outlining the characteristics of their success in his newest book, Great by Choice. We've been giving copies of the book to dairy producers to help them see how uncertainty can be handled, and there are keys to managing and thriving despite chaos.
One of those keys is "fanatic discipline." Collins calls it "fanatic discipline" because there is always temptation to overreact, to follow the herd, or to give in to emotions, and it takes fanatically disciplined leadership to stick to goals and not pull back because you second-guessed (or someone else second-guessed) your decision. In marketing, it doesn't matter if you pick the top or the bottom right. In fact, those are futile efforts. What matters is that you embark on a program focused on establishing a solid weighted average price, staying consistent and disciplined in implementing the strategy, and staying steadfastly dedicated to long-term goals. Fanatically disciplined.
I'll cover more of the characteristics of successful "Great by Choice" businesses in my next column. In the meantime, if dairy producers would like a copy of Great by Choice, email or call me, and I will be happy to send you the book and discuss its concepts with you.
Mark Ludtke consults with dairy producers nationwide concerning their choices for risk and opportunity management. He can be reached by calling 855.334.0700 or at [email protected].
The data contained herein is believed to be drawn from reliable sources but cannot be guaranteed. Neither the information presented, nor any opinions expressed constitute a solicitation of the purchase or sale of any commodity. Those individuals acting on this information are responsible for their own actions. Commodity trading may not be suitable for all recipients of this report. Futures trading involves risk of loss and should be carefully considered before investing. Past performance may not be indicative of future results. Any reproduction, republication or other use of the information and thoughts expressed herein, without the express written permission of Stewart-Peterson Inc., is strictly prohibited. Copyright 2012 Stewart-Peterson Inc. All rights reserved.