Published on:
15:34PM Mar 20, 2012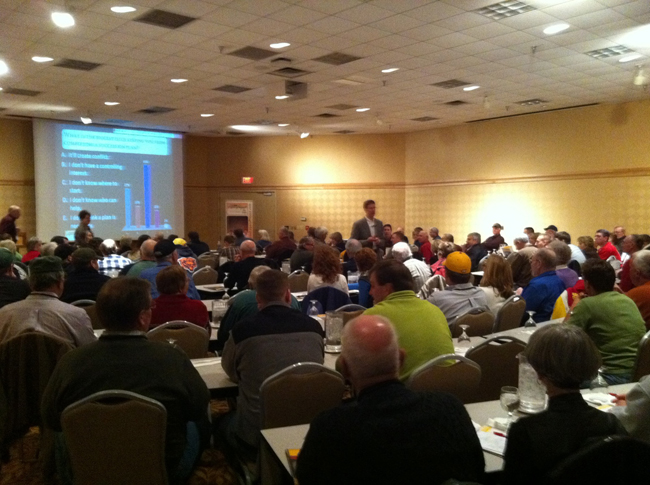 From Legacy Moment (03/16/2012).
Please join us for future issues,
delivered via email each Friday.
---
If you've attended a Legacy Project Workshop, you know how we conclude the day. After participants have learned the five keys to planning success, utilized some of the Legacy Project planning tools and explored their own misgivings, I ask them to commit to a next step. "Nothing happens until you make a commitment," I encourage, then follow with, "Please take the next 10 minutes to write down three things you learned today that you'll take back and share with the family, or will do to follow up on your succession intentions."
In the end, beyond the Workbook support material and notes, each participant leaves with a record of three things they'll do to take the next step in the succession planning process. One step might be to jump in with both feet, schedule a family meeting and work to define the family's common objectives. For some, the commitment may be very small, like going home to read the other sections of the Workbook. Either way, and for every action in between, the important point is a commitment to action and progressive steps toward your goal.
This week, we completed Farm Journal Legacy Project Workshops in Moline, Ill., West Lafayette, Ind., and St. Charles, Mo. That translates into almost 300 new promises. On top of the thousands of attendees over the past two years, that's a lot of families that are taking steps to cultivate multigenerational success and create a lasting legacy.
News & Resources for You:
Browse the

Legacy Project website
. 
There's a wealth of information at your fingertips, from tools to TV episodes.
The next Legacy Project Workshops are coming up.

Registration will open soon

for the July 10 workshop in Fargo, N.D., and the workshop in Omaha, Neb., on July 12.