Published on:
17:47PM Sep 26, 2011
From Legacy Moment eNewsletter (09/16/2011). Please join us for future issues, delivered via email each Friday.
---
  On Thursday, Sept. 29, AgWeb wants to help tell your story.  
AgWeb and the entire Farm Journal Media team will focus on portraying a single day in American agriculture.
From sunrise on the East Coast to sunset on the West Coast, AgWeb.com will be dedicated to showcasing agriculture around the country.
Please take a few moments to submit short stories and photos of the activities on your farm to

[email protected]

.
• Send a video showing what you're doing on the farm that day.
• Submit several photos of your farm, with captions.
• Tweet live updates of what you are doing (#dayinag).
• Call in to the AgWeb editors and provide an audio update: (573) 581-6387.
• Post a status on Facebook about how you are involved in agriculture.
• Provide a blog-like submission of your life on the farm.
In whatever way you choose, let's invite those people who aren't involved in agriculture to take a closer look at who we are and what we do!
REMEMBER: Thursday, Sept. 29
Upload photos, video, etc., with this form.
Need additional help from the Legacy Project? Let us know!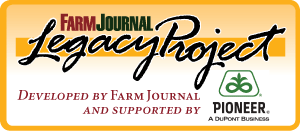 ---