Published on:
14:31PM Sep 27, 2010
For his birthday, a Danish farmer rode four days on his scooter to arrive in Fabbrico, Italy for a tour of the Landini tractor factory. Flemming Lauridsen runs a farm in Denmark where a Landini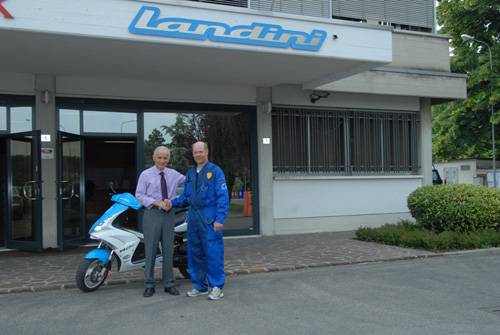 Mythos and two Valpadana tractors carry out his daily farm chores and jobs.
The round trip totaled 2,500 miles. Before leaving for the trip Lauridsen branded his 50 cc. Peugeot scooter with Landini decals. He was assisted by Praesbo Maskiner, the Landini importer in Denmark. After he arrived in Fabbrico, Lauridsen received a factory tour of the Landini line of tractors.
Argo Tractors, the parent company of Landini, has its headquarters in Fabbrico. For the McCormick and Landini tractor brands, the company has four plants, 27 product ranges, eight business branches in the world and 130 foreign importers.