Published on:
15:11PM Feb 26, 2014
 The tractor team at New Holland shared a repeatable experiment with me during National Farm Machinery Show. The joke is that they have the New Holland AutoCommand CVT down to "an exact science"
The Exact Science Test Method:  Reverse the tractor while having someone hold up the piece of paper in front of a beach ball on a cone. The precision requirement is to reverse the tractor without clutch or brakes while not knocking over the beach ball on the top of a cone.
It's described as maneuvering a 32,000 pound tractor with "the ease of a butterfly" without using the clutch or brakes on the tractor.
In the image below, a "newbie sales rep" was the one in the tractor seat and did this on his first try (inside a show arena!).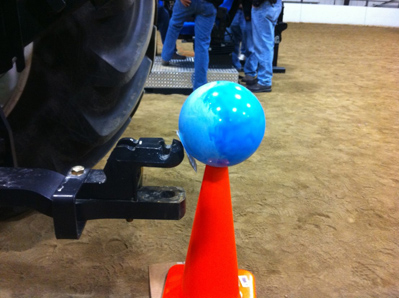 The trick is using a low set speed value and using the "Drive Pedal" or "Go Pedal" to precisely inch the tractor. Then when the Drive pedal is released, the tractor goes to power zero and does not move.