Published on:
16:59PM May 10, 2012
In a recent story in Crops and Soils magazine I learned about tractor-driven combines and the mechanization of harvest in India. Read more from the article below:
The tractor-mounted or tractor-driven combines are popular in India where the fields range from ½ to 10 acres. A small crane can lift the tractor off the harvester and be used in other seasonal operations.
The biggest impact of these machines is that harvesting in India has traditionally required land owners to find, hire, and retain 40 or more workers during the month-long harvest, and this has gotten much harder to do in recent years as people migrate from India's countryside to its cities, says M.B. Patil, a collaborator of Khosla's at the University of Agricultural Sciences (UAS), Raichur, in the southern Indian state of Karnataka.
Not only does a combine harvester help farmers contend with the growing labor shortage, explains the UAS plant pathologist, but it can also save them money. Local pigeon pea-, sunflower-, and wheat-farmers, for example, will rent the services of a tractor-driven combine for 2,000 rupees ($40 U.S. dollars) per acre—about half of what they'd pay to employ laborers to bring in the harvest.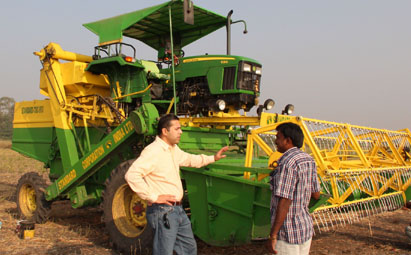 Image courtesy of the University of Agricultural Sciences, Raichur
UAS, Raichur, owns two tractor-driven combines at present, and Patil estimates that about 600 more are now in operation across Karnataka. While the machines are still expensive for many Indian farmers to purchase—they typically cost the equivalent of $46,000 to $48,000 in U.S. dollars—the state government will subsidize 30 to 40% of the price. And those who can afford to buy machinery typically share it by offering services to other farmers.
The article also gives some insights onto the overall combine market in India…
The Standard brand of harvester is a popular one in many Indian states, including Punjab, Haryana, Andhra Pradesh, and Karnataka, according to the company that makes it, Standard Combine of India. Another maker of compact combines, the Germany-based company CLAAS, originally developed its product CROP TIGER—outfitted with tracks—for harvesting rice from wet, paddy fields. It later released a wheeled version for harvesting grain.
Other manufacturers of tractor-driven combines include the Indian companies, PREET AGRO Industries and Panesar Agriculture Industries, as well as the Japanese company, Kubota, and some of them also sell self-propelled combines for small fields. Local farmers tend to favor John Deere tractors, Patil says. But Mahindra is an Indian company that also makes tractors suitable for top-mounting on combines.