Published on:
22:08PM Nov 14, 2014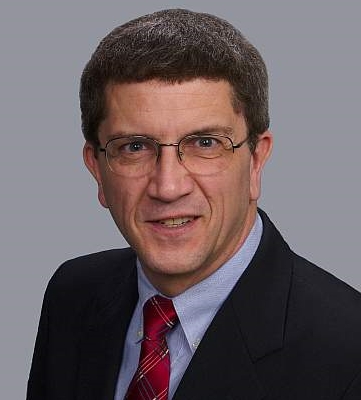 Market Watch with Alan Brugler
November 14, 2014
Cross Currents
Some of the conventional wisdom in commodity markets isn't working well in their pre-holiday period. In general, you expect a stronger US dollar to be inversely correlated to the CRB Index (a basket of commodities) and roughly 3/4 of the commodities in the basket to be going the same direction as the index. There are always 3-4 going against the CRB tide due to their own unique fundamentals. This week, though, things were pretty fractured. The cash CRB (CRY) was up on Friday, but down 2% for the week. Crude oil was down and tracking with the CRB, but more than half of our ag commodities were higher on the week and by fairly big margins. Something has to give.
Corn ended the week 3.5% higher, the 6th up week in the past 7. Net weekly export sales were up 6% from the previous week, at 505,300 MT. The cumulative commitments are 44%  of the full year USDA forecast. They would typically be 48% by now. The loss of Chinese buying is having an effect. China IS still importing corn with estimated Ukraine purchases of 1.1 MMT since October 1 and several Bulgarian cargos. We also note the largest Chinese purchases of the year of US grain sorghum (346,900 MT). They shipped 285,400 MT. In the weekly Commitment of Traders report, managed money accounts added 23,134 contracts to their net long corn position, bringing them to net long 186,807 contracts through Tuesday. 
Soybean futures were down 1.6% for the week. Weekly soybean export sales were again solid at 1.074 MMT, but down 33% from the previous week. China bought 733,000 MT for the week. Meal export sales were slow at 39,600 MT for combined 2014/15 asnd 2015/16 shipments. A report that a major user was bringing in Argentine meal to the East Coast to resolve rail delivery problems absolutely killed a meal market which was in the middle of a blow off top rally on Wednesday morning. The weekly Commitment of Traders report from the CFTC showed managed money accounts were net long 41,353 contracts on Tuesday ; a net weekly increased of 22,656 to the bull side.
Wheat futures were sharply higher on all three exchanges. MPLS was up the most, gaining 8.2% after USDA trimmed estimated spring wheat production on Monday. The other classes were higher on ideas of freeze damage in the US and Russia. It will be a long time before that can be confirmed. US weekly export sales were improved, at 417,700 MT. The EU issued 580,000 MT in wheat export licenses, boosting the marketing year total to 11.7 MMT vs. 10.6 MMT last year at this time. In the weekly report from the CFTC, managed money accounts bot only 382 contracts net this week in Chicago, leaving them 31,135 contracts net short. It was the least short they have been since June, and of course the market rallied smartly in the 3 days after the CFTC data collection was done.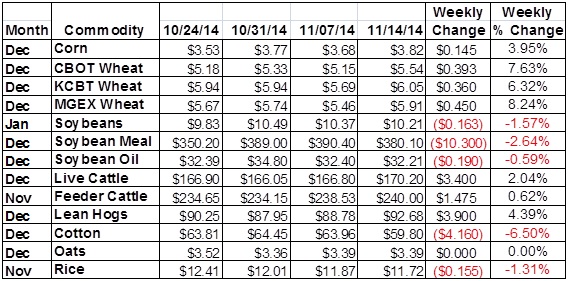 Dec Cotton futures dropped hard this week, losing 6.5% for the week. Unlike some of the other markets, index fund liquidation of December longs pressured the price. The USDA hike in projected US ending stocks from 4.9 to 5.1 million bales was also unfriendly to the bulls. The USDA weekly export sales report this morning showed sales last week totaled 158,300 RB of Upland and a marketing year high for Pima sales which came in at 13,000 RB with China buying 12,800 RB. 
Cattle futures gained 2% this week. Wholesale beef prices were higher for the week.  Choice 600-900 pound boxes were up 1.2%, with Select boxes up a more modest 0.1%. The cash cattle logjam broke on Friday with cash trade at $170-172. Weekly beef export sales were up 16% from a small base, at 8,000 MT. Weekly estimated slaughter was 6.8% smaller than the same week in 2013, with beef production down 4.1%. Beef production for the YTD is down 6.0%, with slaughter down 7.2%. The large managed money spec funds continued their orderly liquidation of their net long position by 2,215 contracts this week.  They were still net long 103,899 contracts in the CFTC report. Others are clearly still paying up to take their place.   
Hog futures shot up 4.4% this week, erasing several weeks of losses and outstripping the gains in cattle.  For 2014 YTD (year to date), hog slaughter is off 5.2% from the same point in 2013. Slaughter this past week was down 5.4% vs. year ago. Pork production was down 4.3% vs. year ago, a reason for the firmer tone in the cutouts. Pork production for the year is down 1.8% vs. Jan-Nov 2013. Pork carcass cutout values were 1.26% higher this week, with the average price reported at $95.93 on Friday.  Pork bellies had a 4.4% bounce after losing 15% the previous week. Hams were also higher on seasonal processor demand. Weekly pork export sales slowed to only 14,500 MT.  The weekly report from the CFTC showed managed money accounts adding 1,558 contracts to their net long position last week, boosting it to 49,390 contracts through November 11.   
 Market Watch
We go back to a normal USDA distribution week this week, with Export Inspections and Crop Progress reports on Monday and the Export Sales report on Thursday morning. The main USDA reports of the week will be the Cold Storage and Cattle on Feed reports, scheduled for release on Friday after the close. Friday will also mark the expiration of December options for grains, soybean meal, soy oil and a number of financials. November feeder cattle futures and options expire a day earlier, on Thursday. The private NOPA crush report is expected to be released on Monday. USDA has begun data collection and norming on monthly soybean crush and fats & oils inventories, but the monthly reports are expected to be ready for publication until February.  
Visit our Brugler web site at http://www.bruglermarketing.com, find our iPad app "AgMarket" in the Apple app store, or call 402-697-3623 for more information on our consulting and advisory services for farm family enterprises and agribusinesses.
There is a risk of loss in futures and options trading. Past performance is not necessarily indicative of future results.
Copyright 2014 Brugler Marketing & Management, LLC