Published on:
20:44PM Nov 21, 2014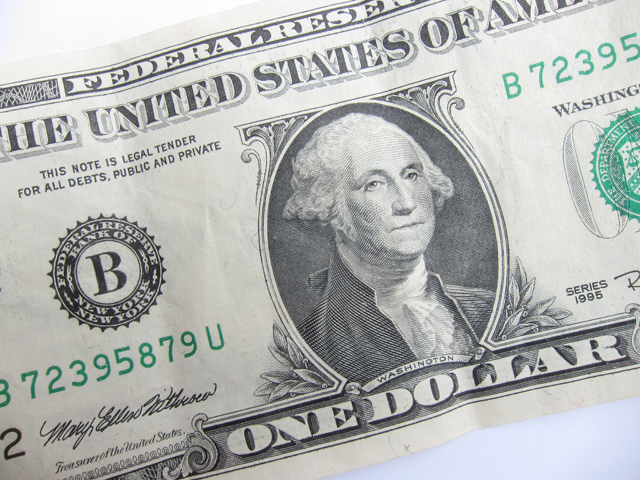 Market Watch with Alan Brugler
November 21, 2014
Its Always Something
In the long running Saturday Night Live TV show, there was once a recurring character named Roseanne Rosanadanna (played by Gilda Radner). Her character's famous punchline was "It just goes to show ya, it's always something".  The US dollar index rose sharply on Friday, a drag on commodity prices in general. However, the Chinese cut interest rates for the first time in two years and the move was seen as potentially generating more imports if it succeeds.  Domestically, EPA punted on the 2014 RFS volumes, already delayed by nearly a year. They will now set the 2014 mandate (or confirm the one in the law) in 2015.  With the withdrawal of the proposed cut in the mandate, obligated parties will likely need to use enough ethanol or RINs to meet the original legislation, just in case that ends up being the final rule.
Corn ended the week 2.4% lower. Net weekly export sales were improved for a second week in a row, to 908,700 MT. The cumulative commitments are 46%  of the full year USDA forecast. They would typically be 49% by now. China IS still importing corn with official customs imports of 114,186 MT during October. Their calendar year to date imports are 1.7 MMT, up 5.2% from the previous year despite restricutions on imports of  US corn due to contamination by unapproved genetics. They have also been buyers of US grain sorghum.  The bottom line is that while they have large stockpiles, global supplies are much cheaper and they are bringing in what they can. Any imports are supportive for global prices. Corn consumption for US ethanol production was also up.
Soybean futures were up 1.8% for the week, more than offsetting the loss from the previous week. A $7.60/ton jump in Dec meal on Friday boosted crush margins and created buying in the soybeans. Weekly soybean export sales were poor at 483,000 MT.  However, there were several announcements made under the daily reporting system once prices broke. Meal export sales were much larger than the trade had expected, at 265,700 MT.
Wheat futures were lower in all three markets after sharp gains the previous week.  Minneapolis was the weakest with a 1.35% drop. US weekly export sales were a modest 361,700 MT. Total commitments (shipped plus outstanding sales) are 65% of the USDA forecast for the year. The five year average for this date is 65%, so essentially we are on pace for the drop expected by the World Outlook Board in the monthly WASDE report.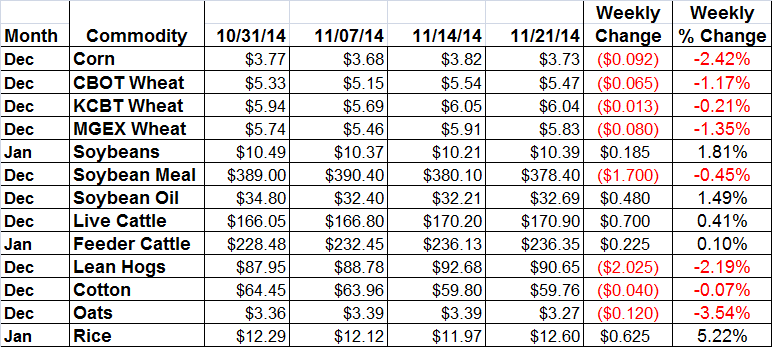 Dec Cotton futures had some big swings, but lost only 0.07% for the week. That was a sharp contrast to the drop in the AWP. The weekly AWP is 46.12, resulting in a rise in LDP/MLG payments to 5.88 cents per pound for any cash cotton sold by Thursday.The US dollar was sharply higher on Friday, with the Chinese cutting interest rates for the first time in two years and the EU making additional stimulus commitments which weakened the euro. Chinese customs data confirms the slow down in imports, with year to date imports of 2.1 MMT down 38.1% from last year. October imports were only 82,898 MT. The US is still selling a good chunk of the cotton that the Chinese are buying.  
Cattle futures gained 0.4% this week. Wholesale beef prices were sharply higher for the week.  Choice 600-900 pound boxes were up 1.6% on a Thursday/Thursday basis, with Select boxes up 1.7%. Weekly estimated slaughter was 8.7% smaller than the same week in 2013, with beef production down 6.3%. Beef production for the YTD is down 6.0%, with slaughter down 7.3%. On Friday afternoon, USDA showed the count of Cattle on Feed November 1 was 100.5% of year ago.  October placements were larger than expected at 99.1% of last year and October marketings were on the light side at 92.2.%.   
Hog futures lost 2.2% this week.  For 2014 YTD (year to date), hog slaughter is off 5.2% from the same point in 2013. Slaughter this past week was down 4.9% vs. year ago. Pork production was down 3.7% vs. year ago this week. Pork production for the year is down 1.8% vs. Jan-Nov 2013.  Pork carcass cutout values were 2.7% lower this week on a Thursday/Thursday basis. Weekly pork export sales slowed 2% to 14,200 MT. 
 Market Watch
The market will start off Monday reacting to late Friday events, specifically the options expirations in the December grains and the aftermath of the USDA Cattle on Feed and Cold Storage reports. This will be a fractured and likely light volume week, with the Thanksgiving holiday on Thursday. Trading hours on Friday will be restricted to 8:30 to noon CST for grains, and 8:00 to 12:15 for livestock. Many traders will take off early for the week on Wednesday, or even Tuesday night. We will will have normal USDA distribution with Export Inspections and Crop Progress reports on Monday. The Export Sales report will be delayed until Friday.  
Visit our Brugler web site at http://www.bruglermarketing.com, find our iPad app "AgMarket" in the Apple app store, or call 402-697-3623 for more information on our consulting and advisory services for farm family enterprises and agribusinesses.
There is a risk of loss in futures and options trading. Past performance is not necessarily indicative of future results.
Copyright 2014 Brugler Marketing & Management, LLC