Published on:
21:09PM Jan 16, 2015

Market Watch with Alan Brugler
January 16, 2015
Seeing Red
For the first time in quite a while, all of the ag commodities are showing red, i.e. lower on the week.  The degree of decline varied from 0.9% for bean oil to 6.73% for soybean meal.  There were some fundamental inputs from the USDA reports on Monday, and the weekly ethanol report on Wednesday with its stocks build.  When everything in the investment class is down, you look for broader themes.  The strong dollar is clearly one reason for the red.  The US dollar index was up 0.8% for the week, which would drop prices 0.8% in dollar terms if nothing else changed. Index funds were also adjusting asset allocations, selling last year's winners (only cattle and feeder cattle in our table) and buying the losers. More discretionary funds were selling commodities and parking the cash, hoping to keep the powder dry for an eventual long position in crude oil and the other energies. There is also some deflation talk around, due to competitive devaluation of currencies and ideas that the drop in energy prices drops costs for a broad swath of goods.
Corn settled 3.4% lower for the week. The top news for the week was, of course, the multiple USDA reports that were issued Monday. The Grain Stocks report was bearish, with 11.203 billion bushels on hand Dec. 1, above the average trade estimate and the first time since 2005 Dec. 1 stocks grew in two consecutive years. The production report reduced corn yield more than expected, to 171 bpa, and reduced planted acreage by 300,000. As a result, production dropped from 14.407 billion bushels in December to a still-record 14.216 billion.  However, thanks to a 25-million-bushel hike in ethanol use, 2014/15 ending stocks shrank by 121 million bushels. Whether that aggressive level will materialize in the face of cheaper gasoline remains to be seen.  The weekly ethanol production was strong in the past week, at 978,000 barrels/day and USDA's reported product value is still more than $1 above corn cost. However, that margin is narrowing and ethanol surplus stocks jumped to their highest level in nearly two years. Net corn export sales for the week ended January 8 were in the trade range, at 844,000.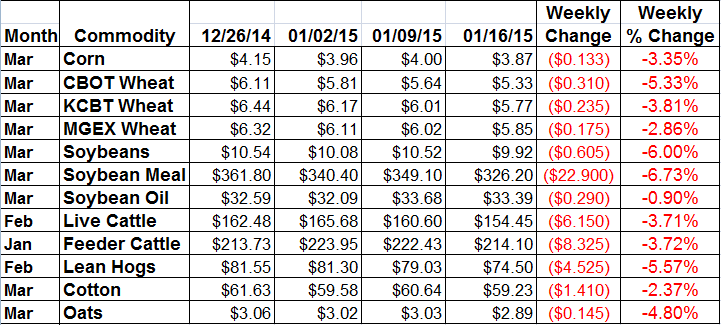 Soybean futures were down 6%, clearly influenced by the 6.7% drop in soybean meal . Monday's Grain Stocks report did find 370 million bushels more soybeans on hand than the prior year. The Production report boosted yield to 47.8 bu. from its prior 47.5 estimate and reduced planted acreage by 500,000 but harvested by only 300,000. Combined, production is pegged at 3.969 billion bushels, up only 11 million from earlier estimates. Exports were hiked 10 million and seed/residual 1 million, leaving ending stocks unchanged at 410 million. We are at that time of year when soybean exports typically fall seasonally, and a sharp drop off is anticipated based on the rapid pace thus far, China cancelling 285,000 in purchases Friday and a record crop expected in Brazil. Wednesday's NOPA crush report was slightly smaller than expected at 165.4 million bushels.
Wheat futures were 2.9% to 5.3% lower this week, with Chicago the weakest. MPLS was firmest, and traded at a premium to KC at the end of the week. Export shipments continued to lag last year and the five-year total for this time of year as a percent of total projected shipments. The surprise in USDA's wheat reports was winter wheat acreage, which came in much lower than expectations. Hard red winter wheat, at 29.5 millin, was below the low end of the pre-report range. Soft red winter acreage fell by almost 1 million, to 7.5 million; white wheat acreage was up marginally from prior estimates. At 1.524 billion bushels, wheat stocks on hand were lower than last year but 21 million bushels above the average trade expectation. In the supply/demand report, production was unchanged but lower feed use means ending stocks rose 54 million bushels, to 687 million. The global estimates were more bearish, with another 500,000 metric ton increase, equal to a production boost in the EU.
Cotton futures were down 2.4% for the week. The US dollar index again surged to a new multi-year high this week. However, cotton export sales hit a marketing year high of 443,300 running bales, led by China's 184,500 RB purchase. China's importers are buffered by the government's partial control of the yuan, and have access to the 2015 import quotas. USDA bumped up estimated 2014/15 production by 160,000 bales, with a 22 pound jump in national average yield per acre.  Only 100,000 of those made it to the projected ending stocks. Those are now 4.7 million bales. The USDA AWP for January 16-22 is 46.77, raising the LDP to 5.23 cents per pound.
Cattle futures fell 3.7% this week, with nearby feeder futures also down 3.7%. Cash cattle traded at $162-165, down from the previous week.  Wholesale prices also rose on the week, with Choice boxed beef up 1.4% and select up 1.1%.  Weekly beef production was up 1.6% from the previous week but down 6% from a year ago.  Weekly slaughter was up 1.5% from a week ago but down 9.2% from the same week inn 2013/14 because average carcass weights continued to increase, now 27 lb. over a year ago.  
Hog futures were down 5.6% on the week. Weekly hog slaughter was up 6.2% fom the prior week and just 0.6% from a year ago for the same week.  There were indications that some of last week's hogs were actually slaughtered on Sunday and inflated this week's total. Pork production was 6.3% larger than the prior week and 1.2% above the same week in 2014.  Weekly exports were reported at 28,200 MT. The Commitment of Traders report on Friday showed the large managed money spec traders reducing their long position another -2456 contracts for the week.  
 Market Watch
The coming week brings the usual weekly USDA export inspections on Monday and net export sales report on Thursday. Livestock traders will watch the meat Cold Storage report at 2:00 PM on Thursday and Cattle on Feed at the same time Friday.
Visit our Brugler web site at http://www.bruglermarketing.com, find our iPad app "AgMarket" in the Apple app store, or call 402-697-3623 for more information on our consulting and advisory services for farm family enterprises and agribusinesses.
There is a risk of loss in futures and options trading. Past performance is not necessarily indicative of future results.
Copyright 2015 Brugler Marketing & Management, LLC