Published on:
21:07PM Oct 31, 2014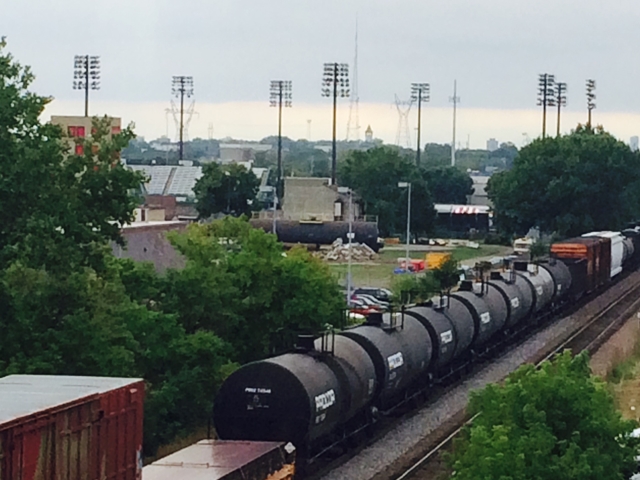 Market Watch with Alan Brugler
October 31, 2014
Waiting for Godot (or at Least His Train)
Trains have had an important role in the US economy ever since they were invented. While passenger traffic is now mostly limited to commuter trains and the occasional Amtrak, rail freight is a cost effective way of moving bulk commodities like coal, grain and crude oil (if you can't get a pipeline built). Trains are part of popular culture, with Wikipedia cataloging more than 1000 railroad songs. For the ag industry right now, the railroads might choose "I've been Workin' on the Railroad" as they try to ramp up personnel, trackage and power to handle record shipping volumes.  Shippers might relate more closely to the absurdist play Waiting for Godot, where the principals wait at the train station but Godot never arrives.
Lack of ability to move cars on time has put a severe dent in interior basis bids for grains.  It is also affecting ethanol plants and soybean meal plants that can't ship product. This was certainly a factor in this week's explosive soybean meal rally, but not the only reason for grains and oilseeds to be higher. There were also good technical reasons for us to lift our short hedges in beans and corn three weeks ago. Seasonal patterns favor a futures rally in corn and beans from early October to mid-November. MACD was also flashing buy signals. This reminds us one again that "if you trade the news you lose". The fundamental news is mostly still bearish.  
Corn ended the week 6.7% higher, with a 5th consecutive weekly gain. Net weekly export sales were sluggish at 534,300 MT.  The cumulative commitments of 18.7 MMT (736 million bushels) are 42%  of the full year USDA forecast. They would typically be 45% by now. Weekly ethanol production rose, while ethanol stocks declined. That is a good demand equation for ethanol, and for corn use. Green Plains indicated that they see a steady expansion of E15 pumps in 2015, with several retail chains expected to offer it more widely.  In the weekly Commitment of Traders report, managed money accounts added 14,836 contracts to their net long position, bringing them to net long 141,788 contracts. 
 

Commodity

 

 

 

 

Weekly

Weekly

Month

10/10/14

10/17/14

10/24/14

10/31/14

Change

% Change

Dec

Corn

$3.34

$3.48

$3.53

$3.77

$0.238

6.73%

Dec

CBOT Wheat

$4.99

$5.15

$5.18

$5.33

$0.148

2.85%

Dec

KCBT Wheat

$5.78

$6.05

$5.94

$5.94

$0.000

0.00%

Dec

MGEX Wheat

$5.53

$5.70

$5.67

$5.74

$0.072

1.28%

Nov

Soybeans

$9.23

$9.52

$9.78

$10.47

$0.690

7.06%

Dec

Soybean Meal

$311.00

$330.20

$350.20

$389.00

$38.800

11.08%

Dec

Soybean Oil

$32.44

$32.05

$32.39

$34.80

$2.410

7.44%

Dec

Live Cattle

$165.30

$165.05

$166.90

$166.05

($0.850)

-0.51%

Jan

Feeder Cattle

$233.10

$228.13

$228.90

$228.48

($0.425)

-0.19%

Dec

Lean Hogs

$94.40

$90.58

$90.25

$87.95

($2.300)

-2.55%

Dec

Cotton

$64.10

$63.08

$63.81

$64.45

$0.640

1.00%

Dec

Oats

$3.43

$3.47

$3.52

$3.36

($0.155)

-4.41%

Nov

Rice

$12.59

$12.51

$12.41

$12.01

($0.400)

-3.22%
Soybean futures were up a sharply 7.1% this week, thanks to an 11.1% jump in nearby December soybean meal.  Weekly export sales were again stellar at 1.326 MMT. China bought 1.055 MMT.  To meet the USDA forecast for the year, China needs to buy almost 1.4 MMT per week from somebody, year round. Right now, that origination is from North America, and planting delays in South America just increase the potential for US business in the first half of the marketing year. Soybean meal futures were up on tight stocks, with limited September crush draining pipelines and then freight issues and slow farmer sales making it hard to create enough meal and get it to the right places. The weekly Commitment of Traders report from the CFTC showed managed money accounts are now net long 8,382 contracts; a net change of 24,719 contracts from last week. 
Wheat futures were UNCH in KC HRW wheat this week,  with new crop planting and crop condition in pretty good shape. Chicago and MPLS futures were higher with boosts from ideas of smaller Australian and Argentine production. The US ag attaché cut the projected Aussie crop 1 MMT to 24 MMT, but some private estimates are already down at 22 MMT. US weekly export sales were stronger than the trade expected at 459,100 MT. In the weekly report from the CFTC, managed money accounts were shown with a net short position of 43,280 contracts, which is less-short 7,767 contracts compared to the report from last week. 
Dec Cotton futures gained 1% for the week, which is pretty remarkable given the sharp rise in the US dollar index and its potential bearish effect on export trade. That said, China is still typically the second or third largest buyer each week and the dollar is not gaining appreciably vs. the yuan. While the Chinese import quota for 2015 is only 4.1 MMT, a number of mills still have 2014 quota and they are using it because US cotton is so cheap compared to internal supplies.  The Commitment of Traders report from the CFTC showed managed money accounts adding a net 5,085 more contracts to their net long position this week, making them net long 9,633 contracts.   
Cattle futures were down 85 cents for the week, thanks to a $1.27 drop on Friday in the December contract. Wholesale beef prices were higher this week. Choice 600-900 pound boxes were up 1.5%, with Select boxes up 2.5%. Weekly export sales were the largest since April at 20,100 MT. Weekly estimated slaughter was 11.2% smaller than the same week in 2013, with beef production down 8.6%. Beef production for the YTD is down 6.1%, with slaughter down 7.2%. The large managed money spec funds reduced their net long position by 1,161 contracts this week.  They were still net long 108,195 contracts in the CFTC report.  
Hog futures were down 2.55%. For 2014 YTD (year to date), hog slaughter is off 5.3% from the same point in 2013. Slaughter this past week was down 3.4% vs. year ago. Pork production was only down 1.9% vs. year ago due to higher average carcass weights. Pork production for the year is down 1.8% vs. Jan-Oct 2013. Pork carcass cutout values were lower this week, with the average price reported at $97.51 on Friday, a weekly drop of 0.75% .  Weekly pork export sales dropped to only 12,700 MT, off 35% from the prior week. The weekly report from the CFTC showed managed money accounts lightening up on their net long position by about 7% from the previous week.  They were net long 51,359 contracts as of the Tuesday close. 
 Market Watch
This will be a fairly routine week in the ag commodities. November soybean futures are in deliveries, with none on first notice day but new crop supplies presumably available. USDA will release the usual Export Inspections and Crop Progress reports on Monday. EIA Energy Stocks and ethanol production will be out on Wednesday. USDA weekly Export Sales are due out on Thursday.  Friday will be the expiration date for the November serial options in Live Cattle. , and also for Dec Cotton options.  The main monthly USDA reports on Crop Production and supply/demand will be a week from Monday, November 10.
Visit our Brugler web site at http://www.bruglermarketing.com, find our iPad app "AgMarket" in the Apple app store, or call 402-697-3623 for more information on our consulting and advisory services for farm family enterprises and agribusinesses.
There is a risk of loss in futures and options trading. Past performance is not necessarily indicative of future results.
Copyright 2014 Brugler Marketing & Management, LLC