Published on:
12:17PM Apr 27, 2012
You might have a marketing plan. Many farmers do have some sort of plan in place. What about a backup plan, a Plan B? Based on my conversations with farmers, I'd guess most do not, although it's not because they don't believe contingency planning isn't important.

Contingency plans gain importance every day. It's just a fact of business. Market volatility can erupt anytime, demanding that we all be prepared to change course. You've experienced first-hand the influence our global economy exerts on price. And just this week, I saw another article on climate change. Sure, weather is always a constant variable. Even so, it's worth noticing that, according to the study referenced, if our temperatures stay within a range that governments around the world believe is possible, we could see more damaging heats waves than usual in the Corn Belt during the come decades. Clearly, this could lead to severe price swings.
You never know which way the market – like the ball in a pinball machine – is going to go. So you have to be ready for anything.
Yet, farmers, like many other businesspeople, can't seem to find time to develop backup plans. And if time isn't to blame for avoiding creation of backup plans, confidence might be. Some marketers fall in love with the only plan they create, a dangerous position. The business world is littered with examples of companies that failed or suffered a severe setback when Plan A failed and there wasn't a fall-back.
Finally, we also see marketers who spend so much time on one plan that it prevents them from even thinking about a Plan B. Having finally reached a decision, they turn attention other work. The challenge is this: planning is never done. It's an ongoing process.
To start on your path toward developing strong backup plans, look at strategic planning as a process in which you think through many possible scenarios and decide ahead of time how you will react to the potential challenges. Take a systematic approach to identifying what could cause price risk and opportunity, and determine how you will react.
We use a process called Market Scenario Planningsm when planning for uncertainties. It's similar to the contingency planning you do for field work at planting or harvest. For example, you have spare parts in case of a breakdown. Or if it rains, you have alternative plans of action for getting work done. Market Scenario Planning is a process of identifying potential situations, planning for those situations and moving ahead as needed when a situation occurs.
At left is what Mark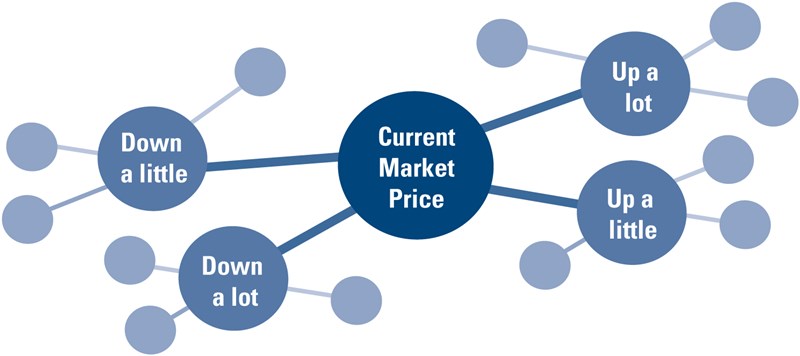 et Scenario Planning looks like in theory.  The circles represent potential scenarios. Your goal is to think through how you will react if any of the scenarios become reality and price goes down a little or a lot, or up a little or a lot.

There are four keys to this type of planning. First, analyze all possible price scenarios based on fundamental and technical analysis, including outlier "what if" sorts of possibilities. Second, develop marketing strategies for each possible price scenario. Three, hold regular strategy discussions with your marketing advisor and change plans when necessary. Lastly, repeat the process regularly.
Here are seven steps to help  you get started with scenario planning:
Define the scope of your planning and the time frame (old crop new crop and next year's crop)

Use fundamental and technical analysis to develop likely scenarios of where the market could go.

Identify triggers or signs to serve as indicators that a certain scenario is unfolding (for example, weather and news events).

Create a matrix that reflects ranges in the variables.

Test the various marketing strategies you use for each section in your matrix (for example, strategies such as no marketing plan, cash sales of 50% production at certain price, etc.)

Develop the discipline to act when triggers are hit.

Continuously create new scenarios and trigger points as each scenario unfolds.
The bottom line in all of this? Develop a Plan B, because if Plan A isn't working, you still need to protect your bottom line.
If you'd like more information on the basics of strategic planning, you might want to check out our videos on the subject of marketing well amid volatility. 
Scott Stewart is president and CEO of Stewart-Peterson, a commodity marketing consulting firm based in West Bend, Wis. You may reach Scott at 800-334-9779, email him at [email protected]
The data contained herein is believed to be drawn from reliable sources but cannot be guaranteed. Neither the information presented, nor any opinions expressed constitute a solicitation of the purchase or sale of any commodity. Those individuals acting on this information are responsible for their own actions. Commodity trading may not be suitable for all recipients of this report.  Futures trading involves risk of loss and should be carefully considered before investing.  Past performance may not be indicative of future results. Any reproduction, republication or other use of the information and thoughts expressed herein, without the express written permission of Stewart-Peterson Inc., is strictly prohibited. Copyright 2012 Stewart-Peterson Inc. All rights reserved.