Published on:
13:57PM Jan 24, 2014
For now or as I write this blog it seems that December corn may be consolidating a near-term low in the market. A close above $4.50 would certainly show strength and the potential for a move back to the $4.60 level but I continue to suggest December corn is in a sideways trading pattern for now. If you still have 2013 corn to be sold I would wait for a bounce in the market back to the $4.40 level and be done. Call our office if you would like to discuss reownership or revenue enhancement strategies.
(click to see larger image)
December 2014 Corn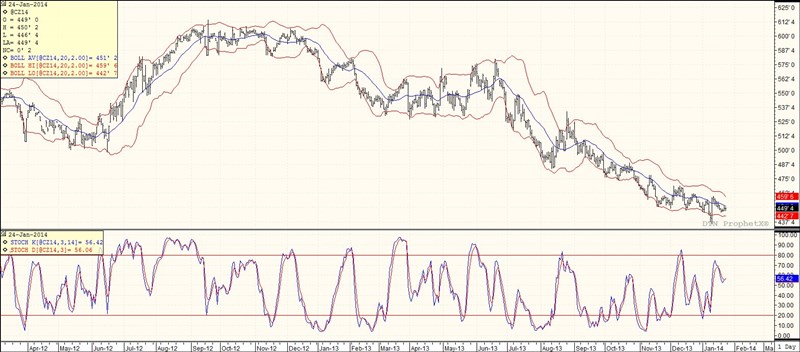 SOURCE: UMS Past performance is not necessarily indicative of future results. Although very reasonable attempt has been made to ensure the accuracy of the information provided, Utterback Marketing Services Inc. assumes no responsibility for any errors or omissions.
As for soybeans, with strong exports this week the nearby contracts closed up 8 to 9 cents on the day while the November 2014 contract closed at $11.09 up only ¼ of a cent. With continued good weather and the prospects of a good South American crop one has to consider being an aggressive seller on any bounce in the market. For now nearby contracts may stay firm or bounce on good news but the closer we get to harvest in South America one would have to assume China may begin to cancel orders. Be careful if you are long in the nearby soybeans, one might want to consider other alternatives.
To help producers develop, implement and monitor the various risk management opportunities ahead, we are starting a consultation service where we merge crop insurance with cash sales, options and futures strategies to evaluate and manage risk. If anyone feels they need to put structure into their risk management program and would like to discuss marketing strategies, call Bob or Laura (1-800-832-1488). We will also try to answer questions in upcoming blogs and we welcome emails to [email protected] or [email protected].
 
THIS MATERIAL HAS BEEN PREPARED BY A SALES OR TRADING EMPLOYEE OR AGENT OF UTTERBACK MARKETING SERVICES, INC. AND IS, OR IS IN THE NATURE OF A SOLICITATION. THIS MATERIAL IS NOT A RESEARCH REPORT PREPARED BY UTTERBACK MARKETING SERVICES, INC. BY ACCEPTING THIS COMMUNICATION, YOU AGREE THAT YOU ARE AN EXPERIENCED USER OF THE FUTURES MARKETS, CAPABLE OF MAKING INDEPENDENT TRADING DECISIONS, AND AGREE THAT YOU ARE NOT, AND WILL NOT, RELY SOLELY ON THIS COMMUNICATION IN MAKING TRADING DECISIONS.

DISTRIBUTION IN SOME JURISDICTIONS MAY BE PROHIBITED OR RESTRICTED BY LAW. PERSONS IN POSSESSION OF THIS COMMUNICATION INDIRECTLY SHOULD INFORM THEMSELVES ABOUT AND OBSERVE ANY SUCH PROHIBITION OR RESTRICTIONS. TO THE EXTENT THAT YOU HAVE RECEIVED THIS COMMUNICATION INDIRECTLY AND SOLICITATIONS ARE PROHIBITED IN YOUR JURISDICTION WITHOUT REGISTRATION, THE MARKET COMMENTARY IN THIS COMMUNICATION SHOULD NOT BE CONSIDERED A SOLICITATION.

THE RISK OF LOSS IN TRADING FUTURES AND/OR OPTIONS IS SUBSTANTIAL AND EACH INVESTOR AND/OR TRADER MUST CONSIDER WHETHER THIS IS A SUITABLE INVESTMENT. PAST PERFORMANCE, WHETHER ACTUAL OR INDICATED BY SIMULATED HISTORICAL TESTS OF STRATEGIES, IS NOT INDICATIVE OF FUTURE RESULTS. TRADING ADVICE IS BASED ON INFORMATION TAKEN FROM TRADES AND STATISTICAL SERVICES AND OTHER SOURCES THAT UTTERBACK MARKETING SERVICES, INC. BELIEVES ARE RELIABLE. WE DO NOT GUARANTEE THAT SUCH INFORMATION IS ACCURATE OR COMPLETE AND IT SHOULD NOT BE RELIED UPON AS SUCH. TRADING ADVICE REFLECTS OUR GOOD FAITH JUDGMENT AT A SPECIFIC TIME AND IS SUBJECT TO CHANGE WITHOUT NOTICE. THERE IS NO GUARANTEE THAT THE ADVICE WE GIVE WILL RESULT IN PROFITABLE TRADES.