Published on:
21:21PM Nov 21, 2014
Watch the U.S. Dollar!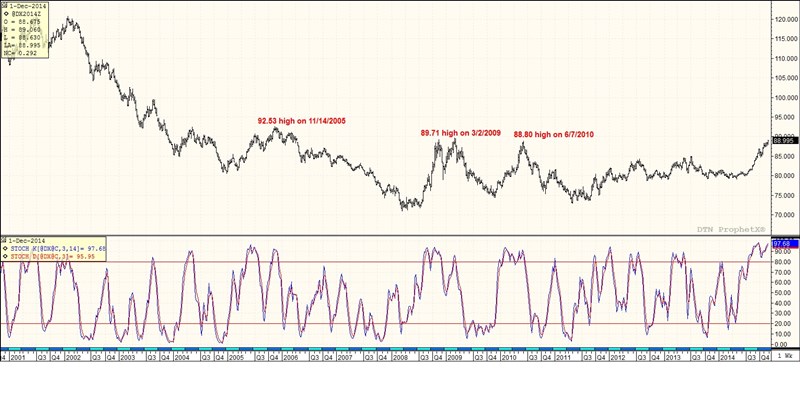 SOURCE: CME   Past performance is not necessarily indicative of future results. Although very reasonable attempt has been made to ensure the accuracy of the information provided, Utterback Marketing Services Inc. assumes no responsibility for any errors or omissions
Today the U.S. Dollar index was down with the December 2014 contract currently at 88.74 down .248. If you look at the continuous chart, the dollar is trading right around the June 2010 high and it could break out to the upside with the potential to go to the 92.00 level. This would be a bearish signal for grain exports. Continued strength in the U.S Dollar index could be considered negative for all commodities and should be watched.
In our opinion, the grain markets are in a sideways trading pattern until we have confirmation of actual production figures at the end of January. If we see continued good weather next year, producers should be prepared to see lower prices next year. Now is when you should be thinking about marketing for 2015.
For those of you who are just beginning or just want to refresh yourselves with marketing terms, ideas, and strategies, on Tuesdays and Thursdays we will have articles regarding terminology and marketing. If you have ideas, email me at [email protected].
This material has been prepared by a sales or trading employee or agent of Utterback Marketing Services, Inc. and is, or is in the nature of a solicitation. This material is not a research report prepared by Utterback Marketing Services, Inc. By accepting this communication, you agree that you are an experienced user of the futures markets, capable of making independent trading decisions, and agree that you are not, and will not, rely solely on this communication in making trading decisions.
Distribution in some jurisdictions may be prohibited or restricted by law. Persons in possession of this communication indirectly should inform themselves about and observe any such prohibition or restrictions. To the extent that you have received this communication indirectly and solicitations are prohibited in your jurisdiction without registration, the market commentary in this communication should not be considered a solicitation.
The risk of loss in trading futures and/or options is substantial and each investor and/or trader must consider whether this is a suitable investment. Past performance, whether actual or indicated by simulated historical tests of strategies, is not indicative of future results. Trading advice is based on information taken from trades and statistical services and other sources that Utterback Marketing Services, Inc. believes are reliable. We do not guarantee that such information is accurate or complete and it should not be relied upon as such. Trading advice reflects our good faith judgment at a specific time and is subject to change without notice. There is no guarantee that the advice we give will result in profitable trades.
You should read the "risk disclosure statement" and "option disclosure statement" and should understand the risks before trading. Commodity trading may not be suitable for recipients of this publication. Those acting on this information are responsible for their own actions. Utterback Marketing Services, Inc. assumes no responsibility for any errors or omissions. Any republication or other use of this information and thoughts expressed herein without the written permission of Utterback Marketing Services, Inc. is prohibited. Copyright Utterback Marketing Services, Inc. 2014.