Published on:
10:57AM Apr 07, 2009
Use this link to send us your comments about the pastures and hay fields in your local area.  Be sure to send us your photos and videos! Comments will be edited for brevity and clarity.
It's calving season for many but the "un-spring-like" weather in many areas has created some challenges. Let us know how your calving season is going.
Here's a sampling of what some folks are saying:
4/6 - Decatur, Illinois - From Pam Smith, Farm Journal Seeds & Production Editor:
Larry Moffett woke early this morning with a feeling that he needed to get up and moving. The cattleman raises prize winning Polled Herefords near Decatur, Ill.

A spring snow storm carpeted central Illinois with an inch of snow over night and it was tempting to snuggle in rather than meet the dawn, but Moffett heeded his instincts. Good thing--when he got to the barns he found a newborn calf lay mired in mud near a creek and a wily coyote closing in for the kill.

Farm Journal editor Pam Smith found Moffett trying to raise the baby bull's body temperature. A feeding tube and some colostrum were already working their magic and the prognosis for a full recovery is good.
Watch the story live:

---
4/3 - Scott County, Kansas - Pastures have not started anything green.  Rainfall for the year to date is 0.62".  This includes the recent Plains blizzard that deposited a whopping 0.34".  Last meaningful moisture was in September 2008. We will be reducing our head by 25-50% prior to going to grass.  With the present conditions I am not sure that 15 acres per cow and calf will be enough. I know there will not be enough for the cows and the neighbor's prairie dogs.
---
3/30- Ramsey County, North Dakota- Cows on an island of hay waiting for a blizzard to hit near North Dakota Highways 3 and 11. Picture taken on March 23, 2009. Photo submitted by Lawson Jones of Webster, N.D.  This was on the Grand Forks Herald Web Site.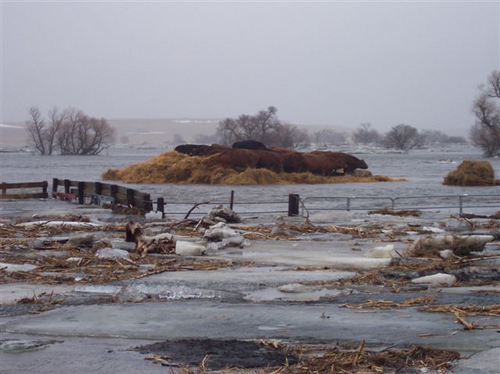 -- Photo submitted by Lawson Jones of Webster, N.D.
(Have any photos of the crops on your farm? Send them to [email protected] and have them posted on Pasture Comments! Be sure to include a caption.)
---
3/27-Hall County, Texas-Blizzard moving into Texas Panhandle area.The snowfall and high winds snarled traffic on roads and even closed some slaughter facilities. This picture was taken at 1:30 p.m. on that day looking south toward a Mulberry tree 100 yards away. Wind: 35 to 50 mph and Temp: 30 degrees.
 
-- Photo submitted by Steve Cornett in Hall County, Texas.

(Have any photos of the crops on your farm? Send them to [email protected] and have them posted on Pasture Comments! Be sure to include a caption.)