Published on:
09:45AM Apr 03, 2009

Use this link to send us your comments about the pastures and hay fields in your local area.  Be sure to send us your photos and videos! Comments will be edited for brevity and clarity.
How has this "spring" weather impacted your calving season?
Here's a sampling of what some folks are saying:
3/30- Ramsey County, North Dakota- Cows on an island of hay waiting for a blizzard to hit near North Dakota Highways 3 and 11. Picture taken on March 23, 2009. Photo submitted by Lawson Jones of Webster, N.D.  This was on the Grand Forks Herald Web Site.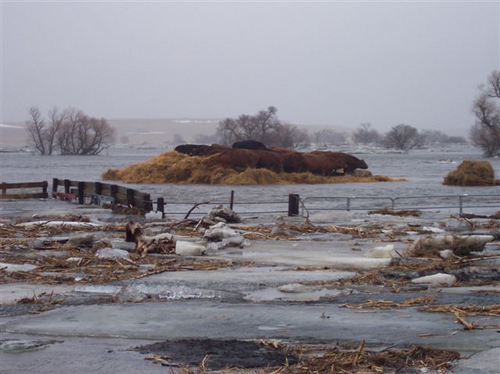 -- Photo submitted by Lawson Jones of Webster, N.D.
(Have any photos of the crops on your farm? Send them to [email protected] and have them posted on Pasture Comments! Be sure to include a caption.)
---
3/27-Hall County, Texas-Blizzard moving into Texas Panhandle area.The snowfall and high winds snarled traffic on roads and even closed some slaughter facilities. This picture was taken at 1:30 p.m. on that day looking south toward a Mulberry tree 100 yards away. Wind: 35 to 50 mph and Temp: 30 degrees.
 
-- Photo submitted by Steve Cornett in Hall County, Texas.

(Have any photos of the crops on your farm? Send them to [email protected] and have them posted on Pasture Comments! Be sure to include a caption.)




---