Published on:
23:03PM Nov 20, 2013
Meet Leigh in:
Nashville (Brentwood), Tennessee.
For more details see the Speaking Events page.
The 2014 Rubes Zoo in a Box calendar is here!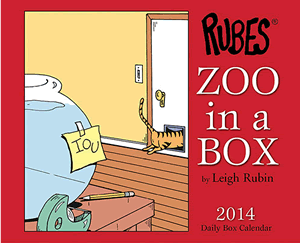 Order yours from:
To order by phone call: 1-800-366-3645
Amazon: www.amazon.com/books/dp/160755982X
Barnes and Noble: www.barnesandnoble.com/w/2014-zoo-in-a-box-box-calendar-leigh-rubin/1114796891
Calendar Club:www.calendars.com/Cartoons-and-Comics/Zoo-in-a-Box-2014-Desk-Calendar/prod201400006989/
 NEED AN ENTERTAINING SPEAKER FOR YOUR NEXT SALES CONFERENCE, MEETING or Corporate Event?
http://www.agriculturalspeakers.com/espeakers/11427/Leigh-Rubin.html 
http://www.rubescartoons.com/events.html
http://www.rubescartoons.com/book-leigh.htm
HTTP://FOX40.COM/2013/02/25/ZANY-CARTOON-CHARACTERS/
The Rubes Zoo on the Go app is here! Just click on the link to download the free demo: itunes.apple.com/us/app/rubes-zoo-on-the-go/id500663910