Published on:
16:03PM Nov 21, 2011
So I pick up my rental car in Burbank after flying in from JFK a couple of weeks back after enjoying several fun speaking events on the East Coast. Now since this was a one way rental I had prearranged with my wife to leave my car at the local airport (about fifteen miles south of my home) where I would drop off the rental car and pick up my car. That was the plan anyway. After I got to the airport I reached into my back pack where I always keep my car keys when traveling. Much to my surprise the keys which I always keep in my backpack were nowhere to be found. This was not good. I looked everywhere but the missing keys stayed that way. I now had to call my wife and ask here to please drive back to the airport with her keys so I could get home. My husbandly instincts told me that she would not really enjoy driving back to the airport after 10PM and guess what...my husbandly instincts were right...she wasn't happy about it at all. After meticulously (frantically) sorting (dumping) the contents of my backpack, suitcase and brief case and searching and re-searching and re-re-researching through everything I figured I must have lost the keys somewhere between Hartford and Rochester with stops in New York, New Jersey and Pennsylvania. The only option left was to call all of the airlines, hotels and rental car companies, but alas, they too came up empty handed. So later that day, I grudgingly paid a visit to my local hardware store and spent fifty-three bucks for one of them new-fangled computerized keys. Later on that evening on I went to unroll a pair of jeans I had on the trip and you'll never guess what fell out of the pocket. Dang. Seems that the keys which I always keep in my backpack when traveling must have thought it would be more comfortable to travel in my jeans. I mean, I couldn't have possibly placed them there because I always put them in my backpack...always. Well, most of the time anyway.
The Rubes Cartoony Show comes to: The Dalles, Ore.; and Nashville, Tenn.!
For all the details on Leigh's upcoming events, please see the Speaking Events page.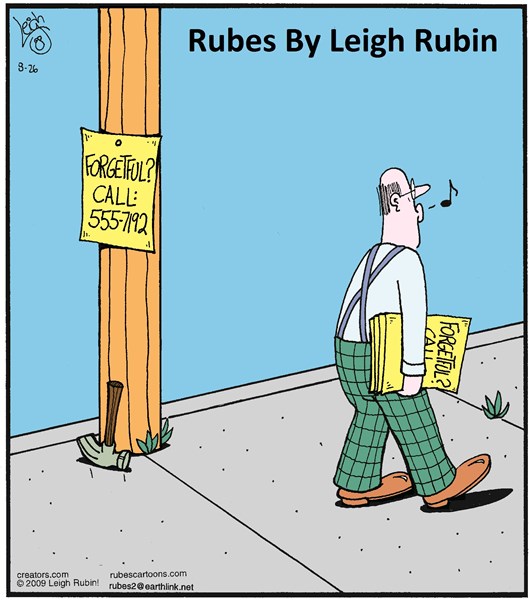 Looking for some fun stockers stuffers! Rubes calendars, books and even the new Cow Playing cards! visit:
http://www.rubescartoons.com/store.html
 See the Rubes Cow Guitar on CBS Good Day Sacramento!
http://sacramento.cbslocal.com/video/6467959-rubes-the-cartoonist-in-studio/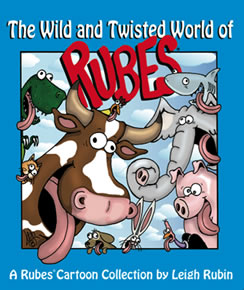 http://www.rubescartoons.com/cow-guitar.html