Published on:
19:46PM Dec 05, 2010
Well, I am happy to report that not one drop of rain fell on the parade, (see yesterday's blog for all the details) ,but it's pouring now. The event went off without a hitch ...unless you count all the hitches being used to pull the floats. My wife and I waved for the full length of the parade and our arms are still a bit on the sore side.  We rode in a gorgeous late 80's, red Mercedes convertible which I assumed was ours to keep as part of me being the guest of honor and all but apparently I was sadly mistaken...(A guy can dream, can't he?!)
(My apologies for the blurry photo...)
What?!, you haven't followed doctor's orders and ordered your Rubes 2011 Zoo in a Box daily desk calendar yet?! There's still time...See the ridiculously silly video below for all the details and Order yours today!
Zoo in a Box 2011 Calendar [Calendar]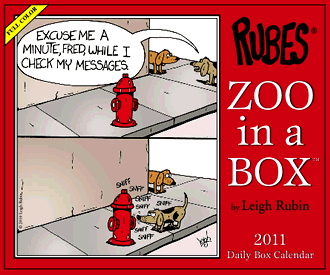 See the latest Rubes at:http://www.rubescartoons.com/
The Rubes cartoony show comes to Sacramento on December 9th and Placerville, Ca on December 10th!...For details see: http://www.rubescartoons.com/events.html
And:
Rubes Cartoonist to Appear Here - Placerville (Ca) Mountain Democrat