Published on:
13:25PM Nov 07, 2010
Never been a big fan of roller coasters. No sir, not one bit. Tried many times but roller coasters are just not for me, or to be more accurate, my stomach. When I was a kid I was able to tolerate the Matterhorn ride at Disneyland but for some reason after I passed my teens I lost all interest.  Oh, I tried to get into it to show my kids I could handle it. Several years ago my family went to Six Flags Magic Mountain and after what seemed like an eternity of dips and bumps and stomach-churning turns I stumbled off the ride and staggered around for the next 45 minutes in a nauseous daze. I decided that was it and I would never subject myself to such a nightmarish experience ever again.  How wrong I was. Now each day I have the pleasure of experiencing all the thrills that come with my youngest son driving to school with me as the passenger/instructor. It's a good thing I eat breakfast after I get home.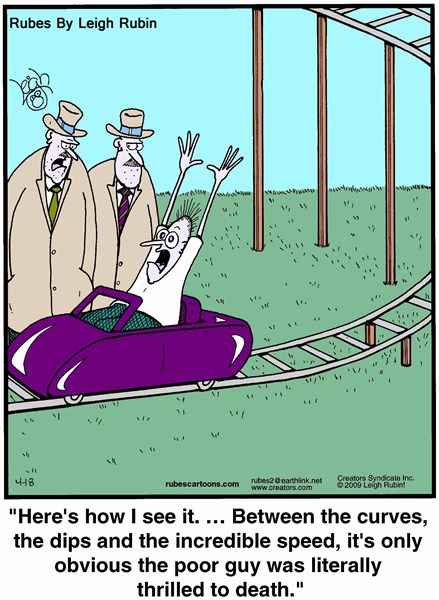 You heve every reason to be thrilled!...The new 2011 Rubes Zoo in a Box daily desk calendar is here and it's available from your favorite online or neighborhood bookstore. Order yours now  !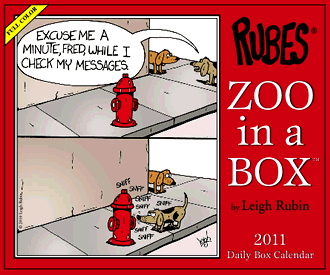 The Rubes cartoony show comes to Eugene, (Nov.9th) and Ashland, Oregon (Nov. 10th!)
For details see:
 http://www.rubescartoons.com/events.html
The New York critics agree, Leigh's cartoony show is a hit! See:
Cartoonist Leigh Rubin, creator of 'Rubes,' disarms and delights ... (From the Staten Island Advance)‎
 
Cartoonist speaks to about 100 fans in Rochester...(From the Rochester Democrat and Chronicle)