Published on:
01:06AM Oct 05, 2009



November Soybeans for 10/5/09


9.18

8.97 3/4

-------------8.81 1/4      Pivot

8.64 3/4                       Support

8.43

 

Trend             

5 day chart.……….. Down                       

Daily chart   …….…Sideways            

Weekly chart …….. Sideways      

Monthly chart ….... Sideways $9.46 is the 200 DMA

 ATR 26                    Maximum Oversold 0%


November Soybeans Chart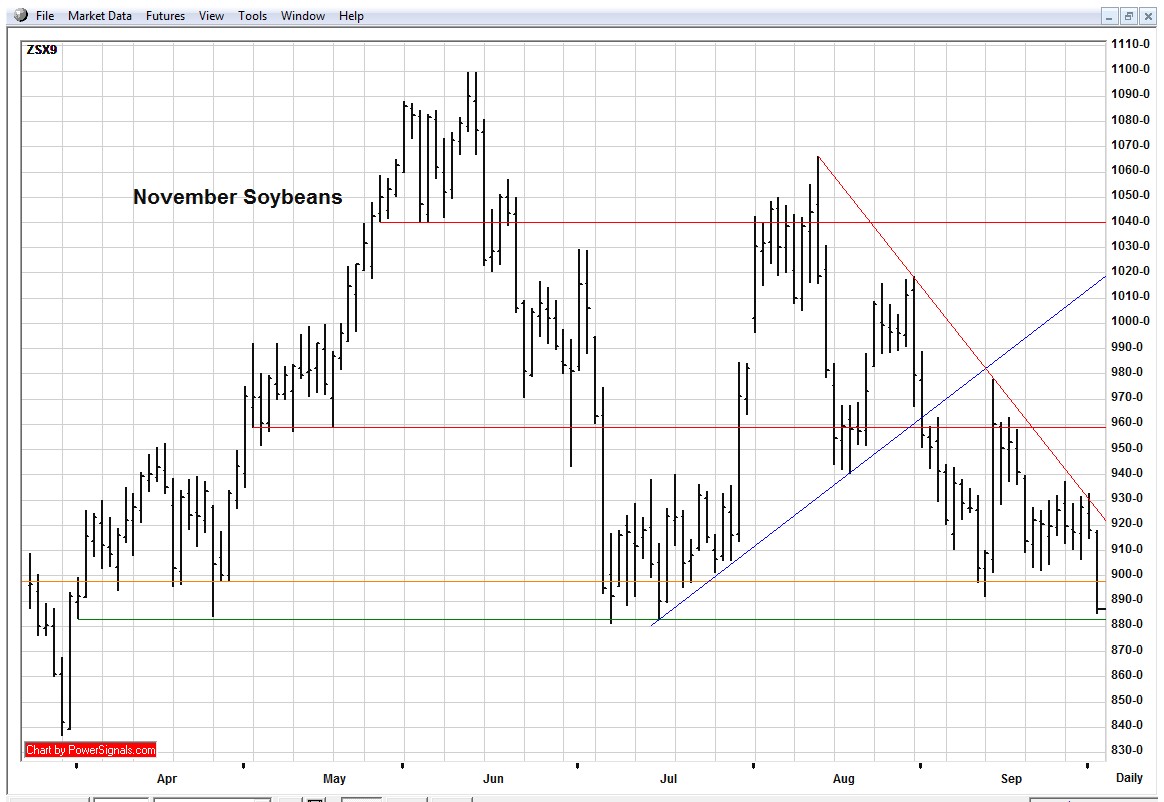 The downtrend line is resistance; green bracket line at $8.80 will be pivotal this week, March low is support.
I continue to say "Downtrend line has not been broken (jabbed above briefly on Thursday to get the stops) and continues to be resistance. Chart is also bearish because the gap was never filled at $9.41 and remains major resistance along with the 200 day moving average".
November Soybeans for 10/5/09

"I want you to notice how the soybean market rallied almost exactly to the downtrend line, and I have pointed out to you many times how the 3rd time at a trend line has a high percentage of holding the first time tested and usually pulls back to where it finds near term support". Any rally near that line should be sold with a buy stop just above to protect.
I have been saying in my chart comments how the orange bracket line was support at $9, what was support is now resistance.
In my daily numbers on Friday my pivot acted as resistance and was $.01 1/2 from the actual high; my support was $.07 from the actual low. 
 
10/5/09 Grains: The beating that soybeans took did not surprise me. I told my producers and in this service that I advised to hedge their entire crop, and they did lock in 2010's crop too. This year's corn crop has been hedged since $4.48, and soybeans were mostly covered near $10 and in the last month the rest near $9.60.
I have told you to play the short side for months. The fundamentals point lower and more important, the charts are breaking down at $9. Corn defies gravity, and the fact that it is so buoyant, makes it a harder and erratic trade for now. Much has to do with corn/soybean spreading. I noticed a much higher soybean volume than corn on Friday which is unusual. I would think we would get a bounce from here seeing as how the market is at maximum oversold, which means the selling has been intense and a bounce higher is near. I would not press the short side from here but would rather sell a corrective rally.
With 20% of the soybeans harvested it looks like there will be higher production that will offset demand that I feel is being understated. I still think that spreads should invert to spur farmer selling enough to meet record 1st quarter demand. With S. America starting off looking to advance a record 28 MMT, soybean stocks could exceed 400 million bushels for 2010/11 unless some US planted acreage is set aside. I want to buy the Jan 6 cents under the March (SF-6/SH).
I want to sell any rally in soybeans and wheat. I have been telling you that soybeans were overpriced in relation to corn, and the market reflects that almost daily since the September 10 report. With that in mind I am thinking soybeans to corn should be around 2.6:1 for the near term, and since I can see soybeans going to $8 to $8.30, corn would be $3 to $3.10. Last half of October should press corn lower unless yields are disappointing.
Lower prices, and smaller trading ranges going into year-end unless weather adversity hits S. America, and if that happened it would be a game changer.  
9/24/09 Grains: Not much I can say today that I did not say yesterday. My new thoughts think the bears might have to wait a week or two before they will get rewarded. Slow harvest is delaying restocking of the near empty pipeline, and cold forecasts are supportive, but I think that investment buying that happened in 2007 and 2008 will not be seen in late 2009 and not help the bulls case.
I have made it clear where I stand on the fundamentals and what side of the market I want to be on. I am also aware of the power of the investor (like in crude oil rallying to $147 on almost weekly bearish fundamental reports) but as I said I am discounting asset allocation and think it will wait until next year before committing. Crude oil has hit a wall at $75 and I do not see a big investor push to do so. If this is the case that market looks to have some correcting to do from here. This is not friendly to the grains either.
I covered my short corn at $3.24 and sold it at $3.26 1/2 and $3.31 1/2. Covered the beans for a profit and resold again at $9.22.

9/16 Grains: With 3 billion bushels of corn and 600 million bushels of soybeans at risk, the market had its best summer 1 day gain in corn and 2nd best for soybeans not on heat but on the cold!
Unlike private forecasters, Crop Cast says it is only a 1 in 5 chance for a September frost and points out that the GFS model typically is colder than other models and not as consistent. Regardless, shorts were vulnerable to this scenario, and the volume speaks of short covering. Farmers were selling old crop corn today, but little soybeans.
I am still standing on the "big crops get bigger" side of the "tug of war", but realize that tomorrow if the frost prediction gets stronger, we can rally to $3.76 in corn and $10.18 in soybeans TODAY. If they take some of that out of the forecast, we can be down $.18 in corn and $.30 in soybeans TODAY.  
If only Dakota/MN growing season is cut short by Sept frost, then we're still too high priced as the vast majority of US CN/BN area will keep adding bushels into early Oct and in so doing partially or wholly make up for losses in the northwestern Midwest.  Remember that landmark early frost in 1974 not only occurred on Sept 4 in MN/Dakota/IA but struck again in mid Sept in central and eastern Midwest.

Attention all Producers
Are you still a victim of outdated hedging programs?
Are you paying $20,000 for advice on hedging that is nothing more than another person's view about where the market is going?
Find out how to take the gamble out of your marketing, and find out how to implement YOUR thoughts and ideas with a realistic strategy.
Sign Up for the Free Farmer Hedging Program Webinar By: Howard Tyllas
  Read a new Article in Futures Magazine: October 2009 issue
 By: Howard Tyllas Executing a butterfly put spread (in Crude Oil)
 Free 1 day Trial For Howard Tyllas Daily Numbers & Trade Ideas.
Want to know what I think for tomorrow?     
HowardTyllas Daily Numbers & Trade Ideas cover 7 markets for less than $10 a day,
HowardTyllas Daily Numbers & Trade Ideas is designed to help you plan your trading strategies for the coming day.
HowardTyllas Daily Numbers & Trade Ideas $199.00 monthly
 HowardTyllas a weekly newsletter $479 yearly
 Feel free to email with any comments or question you:  [email protected]
           May Your Next Trade Be The Best                          
                     Howard Tyllas            
Tel.1-312-573-2699, 1-312-961-4390




Disclaimer:     No guarantee of any kind is implied or possible where projections of future conditions are attempted. Futures trading involve risk. In no event should the content of this be construed as an express or implied promise, guarantee or implication by or from Howard Tyllas, that you will profit or that losses can or will be limited in any manner whatsoever. No such promises, guarantees or implications are given. Past results are no indication of future performance.