Published on:
23:14PM Oct 18, 2009


Ask yourself, how well would I have traded this market if I had these numbers last night? Subscribe now!
This report was sent to subscribers on 10/17/09 8:00 p.m. Chicago time to be used for trading on 10/19/09. Everything is done by Howard Tyllas, no program or black box.
 November Soybeans
After the close on 10/16/09: My support was $.03, from the actual low, and my resistance was $.02 1/2 from the actual high.

Online Readers Please Note: Most services use at least 6 supports and 6 resistances for 1 session, what good does that do you, which number do you actually use? I use 1 or 2 support numbers and 1 or 2 resistance numbers. I did not cherry pick this market today; most of the markets I covered today had similar results. My subscribers have been praising me for the accuracy they consistently have shown, which is a confidence builder that leads them to rely on them as a valuable tool in their trading. This is also evident in the 90 to 100% renewal rate of existing customers. Some have been with me for 12 monthly renewals, most for more than 8 months. 
Do yourself a favor and subscribe to the same daily numbers I use trading an actual $1 million dollar fund account.
With my daily numbers service you will get the same numbers I use to trade in my real time $1 million account. You will know the how and why I formulate my trade ideas from the daily bar chart I use, and I make it a learning experience as you follow the chart progression daily. It is also like walking into the pit right before the opening bell and you ask "Howard, what do you think?" and you get this daily through my commentary. This service is provided for traders from the beginner to the fund manager. 
Attention all Producers
Are you still a victim of outdated hedging programs?
Are you paying $20,000 for advice on hedging that is nothing more than another person's view about where the market is going?
Find out how to take the gamble out of your marketing, and find out how to implement YOUR thoughts and ideas with a realistic strategy.
Sign Up for the Free Farmer Hedging Program Webinar By: Howard Tyllas
10.18 3/4
  9.99
-------------9.85            Pivot
  9.71                       
  9.64 FG
    Use the same numbers as used on 10/16/09
Trend             
5 day chart.……….. Up                         
Daily chart   …….…Sideways            
Weekly chart …….. Sideways      
Monthly chart ….... Sideways $9.47 1/2the200DMA
 ATR 26 3/4              Overbought 72%
November Soybeans Chart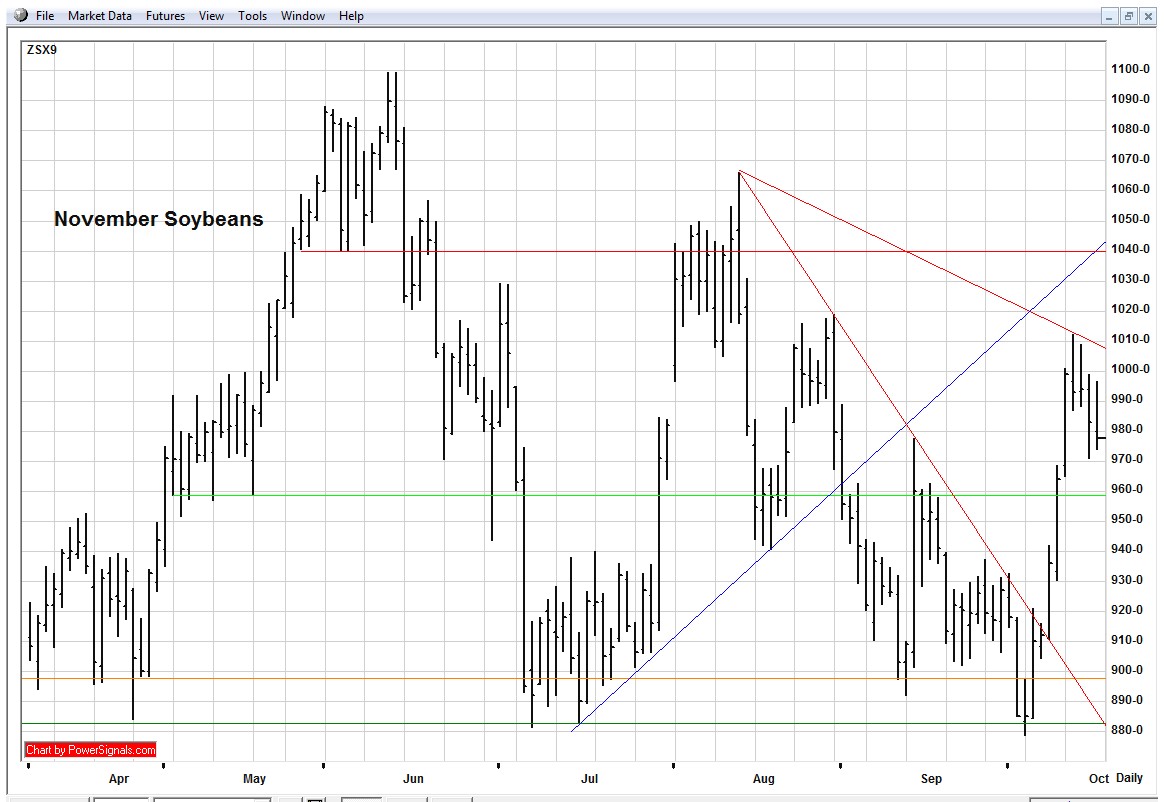 November Soybeans for 10/19/09
Last Tuesday we traded $8.84 1/4 on the low, and 6 days later on Tuesday we posted a high of $10.12 1/4. This $6,400 a contract move to start October is in line with what you see on the chart all year in 2009.
Many reasons this year for the swings in price, aided by the late start to the growing season and a normal frost, when a later than normal frost was needed to optimize yield. Rain delays are partly credited to the support recently. Bottom line: Bracket lines are areas that correspond with news events. Green and orange are when crops look good, red when the crops do not, or are delayed, aided by demand.
In my daily numbers on Friday my resistance was $.02 1/2 from the actual high; my support was $.03 from the actual low. 
Grains: Stop and go harvest is not a disaster, but looks like it is not meeting the needs of fall export commitments, and certainly the strong outside markets is not helping the bears either.
This Monday's weekly crop progress report (after the close) should show a bigger lag in crop progress versus the average, but the way the chart looks after last week's action, the delays have been priced in already. I know my producers are ready to push harvest along whenever weather conditions allow. Looks like what I said a while back, soybeans should be sold and brought to market taking advantage of the high price and inversion, with no incentive of holding for higher prices in the bin like they can do with corn by selling March and collecting the extra $.04 per bushel per month. There is not enough room "on farm" to store the entire crop so a decision must be made on what to bring to market.
I still feel like "big crops get bigger" and last Thursday's export numbers show demand was slipping in corn and wheat, so I want to sell rallies this week at resistance.  I have some short corn on still, but no other position going into the weekend.
Here are 2 "fundamental news" that are worth mentioning to you:
The Soybean and Corn Advisor issued South American production estimates,
pinning soybean production at 125 mmt, up 30% from 08/09 as Argentine crops  
recover from last year's extreme drought and as beans gain acreage across the
continent. The SCA estimates Brazilian corn production at 53 mmt, up from 50 mmt
last year, and he expects Argentine corn production to total 14.5 mmt,
 up from last year's 13 mmt crop.
Informa issued its 2010 acreage forecasts. The group expects farmers to
add 3 million acres in corn to reach 89.4 million acres. They expect 76.8 million
soy acres, down 700K acres from this year. Wheat area is expected to
lose 1.7 million acres, totaling 57.4 million acres. They expect a 13% decline
in variable costs for corn and a 4% drop for soybeans.

Read a new Article in Futures Magazine: October 2009 issue
 By: Howard Tyllas Executing a butterfly put spread (in Crude Oil)
Free 1 day Trial For Howard Tyllas Daily Numbers & Trade Ideas.
Want to know what I think for tomorrow?     
The 8 markets now covered daily are November soybeans, December corn, November crude oil, December S&P, December Euro FX, December gold, and November natural Gas and December cattle .
Subscribe and you will be prepared for Sunday night's trade,  be able to know what I am thinking on a daily basis, and you will have entry and exit points for you to use to execute YOUR trade ideas. I do my best to let my subscribers know what trades I have on as of that writing, and what trades I am looking to do.   
My numbers usually are sent at least 12 hours ( via your email ) in advance of the next day open outcry session. Subscribers use them as best suited to their own needs and sometimes that involves the overnight trade.
Find out why people from Canada, Germany, India, Switzerland, and the UK keep renewing this service.
The reason I sell the numbers on a monthly basis, is that I make my money the old fashioned way, by earning it. When my subscribers keep my service I know that I am truly helping them. In addition, some people due to work load, vacation, or need to take a break, I do not want to charge for what is not needed at that time.
HowardTyllas Daily Numbers & Trade Ideas cover 7 markets for less than $10 a day,
HowardTyllas Daily Numbers & Trade Ideas is designed to help you plan your trading strategies for the coming day.
$199.00 USD for each month, renewable monthly
 HowardTyllas Daily Numbers & Trade Ideas $199.00 monthly
 HowardTyllas a weekly newsletter $479 yearly
Feel free to email with any comments or question you:  [email protected]
           May Your Next Trade Be The Best                          
                     Howard Tyllas            
Tel.1-312-573-2699, 1-312-961-4390




Disclaimer:     No guarantee of any kind is implied or possible where projections of future conditions are attempted. Futures trading involve risk. In no event should the content of this be construed as an express or implied promise, guarantee or implication by or from Howard Tyllas, that you will profit or that losses can or will be limited in any manner whatsoever. No such promises, guarantees or implications are given. Past results are no indication of future performance.