Published on:
18:10PM Nov 16, 2009



This report was sent to subscribers on 11/14/09 8:40 a.m. Chicago time to be used for trading on 11/16/09. Everything is done by Howard Tyllas, no program or black box.
December Corn
After the close on 11/16/09: My resistance was 4.03, just .00 1/2 from the actual high, and my pivot acted as support and was 3.90 1/2, just .00 1/4 from the actual low.
Ask yourself, how well would I have traded this market if I had these numbers last night? Subscribe now! See for yourself why this second year of service has tripled my subscriber base.
Sign up For Free 1 Day Trail of Daily Numbers & Trade Ideas
Sign Up for the Free Farmer Hedging Program Webinar By: Howard Tyllas
4.03                                
3.98 3/4                              
--------------3.90 1/2              Pivot
3.82 1/2              
3.77 3/4
     Use the same numbers as used on 11/13/09
Trend     
5 day chart....….….  Up                          
Daily chart   ……….Sideways          
Weekly chart …….. Down   
Monthly chart ….... Down $3.86 is the 200 day ma
ATR 15 1/4               Balanced 66%
December Corn
Chart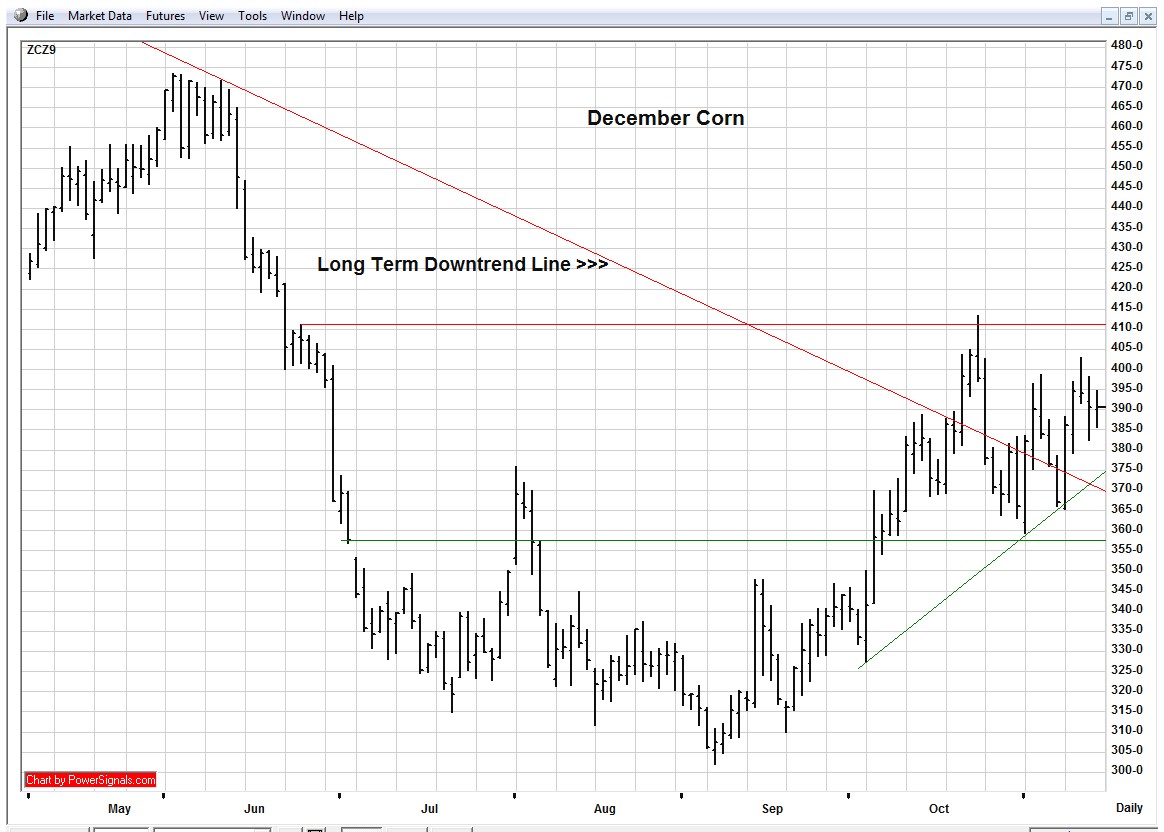 I have been saying "Long term downtrend line is support once again. Bears target the green bracket line, bulls target red bracket line".
I said "Higher high for the run with a lower close bodes well for more corrective action. Strong support at the crisscross of up & downtrend lines at $3.71".
Dec. Corn for 11/16/09
The 200 day moving average is in play now.
In my daily numbers on Friday my resistance was $.04 from the actual high; my support was $.03 from the actual low.
Grains: I could talk about fungus in corn that have annoyed elevators for weeks but now has become a market focus rallying corn. Less corn to feed means a switch to soybean meal, and at this time how much has been or will be switched is unknown. This reversal of buy beans sell corn is the opposite of what the report on November 10th implied, buying corn and selling soybeans. The market is always open to changes in fundamentals as well as outside markets. That is why I do not care what drives a market to a price level; I just care about the opportunities at bracket lines, and trend lines no matter the reasons.
What caused the rally Friday morning? Net sales for soybeans came in at a whopping 1.272 million tonnes (about double than what was expected) which included 961,200 tonnes sold to China. As of November 5, cumulative soybean sales stand at 69.5% of the USDA forecast for 2009/2010, far above the 5 year average of 45.8%. Sales need to average just 253,000 tonnes each week to reach the USDA forecast. If not for this export sales report that came out Friday morning before the open due to the holiday week (normally comes out Thursday) I believe we would have opened lower. This was the final news event that should have pushed it higher for the day, but when near resistance there was not much left on the table.
With that being said, soybeans started the week from the supportive green bracket line and rallied strongly but Friday when close to the downtrend line, profit taking and short selling was in order. Why? Like I have told you for the 2 years of my service, grain markets move quickly from 1 bracket line to another based on events that cause the movement. What took weeks to move a price now takes days. Bearish report for soybeans closed them on the support bracket (which would turn into a resistance bracket line if below) last Friday, rallied to the downtrend line and near enough with nice profits in hand for the bulls to take profits. I am trying to explain how markets "breathe". Even if the market wants to go higher, this exhaling action is normally seen versus the action of breaking through the downtrend line, especially coming from where they were to start the week.    
Where do we go from here? Pressure should come from harvest moving along, the dollar is digging its feet in the sand, Russian wheat is now $.90 cheaper than US wheat, and crude oil is breaking down. But the charts are balanced and both corn and soybeans look to continue to trade between the red bracket lines for resistance and the green bracket line for support. I did not like the lower close in soybeans on Friday, but I liked the way corn closed above their 200 day MA. I want to day trade these markets with a bearish bias. I covered all but 5 SF/SX10 bull spreads. I covered some of my SF/SK at 6 cents the low. I have no other position in corn and soybeans now. December corn options go off the board this Friday and $4 could act as a magnet, because so many calls and puts are using this strike price and markets like to trade where the "paper" is. 

 
Want to know what I think for tomorrow?   
 The 9 markets now covered daily are November soybeans, December corn, December crude oil, December S&P, December Euro FX, December 30 yr TBond, December gold, December natural gas, and December cattle.
My numbers usually are sent at least 12 hours (via your email) in advance of the next day open outcry session. Subscribers use them as best suited to their own needs and sometimes that involves the overnight trade.
 Find out why people from Canada, Germany, India, Switzerland, and the UK keep renewing this service.
HowardTyllas Daily Numbers & Trade Ideas cover 9 markets for less than $10 a day,
HowardTyllas Daily Numbers & Trade Ideas is designed to help you plan your trading strategies for the coming day.
 $199.00 USD for each month, renewable monthly
 HowardTyllas Daily Numbers & Trade Ideas $199.00 monthly
 HowardTyllas a weekly newsletter $479 yearly
Feel free to email with any comments or question you:  [email protected]
           May Your Next Trade Be The Best                          
                     Howard Tyllas            
Tel.1-312-573-2699, 1-312-961-4390




Disclaimer:     No guarantee of any kind is implied or possible where projections of future conditions are attempted. Futures trading involve risk. In no event should the content of this be construed as an express or implied promise, guarantee or implication by or from Howard Tyllas, that you will profit or that losses can or will be limited in any manner whatsoever. No such promises, guarantees or implications are given. Past results are no indication of future performance.