Published on:
16:53PM Nov 19, 2009



This report was sent to subscribers on 11/18/09 5:40 p.m. Chicago time to be used for trading on 11/19/09. Everything is done by Howard Tyllas, no program or black box.
 
December Corn
After the close on 11/19/09: My pivot acted as resistance and was 4.02 1/4, just .01 3/4 from the actual high, and my support was 3.90 3/4, just .00 3/4 from the actual low.
Ask yourself, how well would I have traded this market if I had these numbers last night? Subscribe now! See for yourself why this second year of service has tripled my subscriber base.


Sign up For Free 1 Day Trail of Daily Numbers & Trade Ideas
Sign Up for the Free Farmer Hedging Program Webinar By: Howard Tyllas
4.21                                
4.13 1/2                          Resistance near bracket line
--------------4.02 1/4              Pivot
3.90 3/4             
3.82 1/2             
  Use the same numbers as used on 11/ 17 & 18 /09
Trend     
5 day chart....….….  Up                          
Daily chart   ……….Sideways          
Weekly chart …….. Down   
Monthly chart ….... Down $3.86 is the 200 day ma
ATR 14                     Overbought 74%
December Corn Chart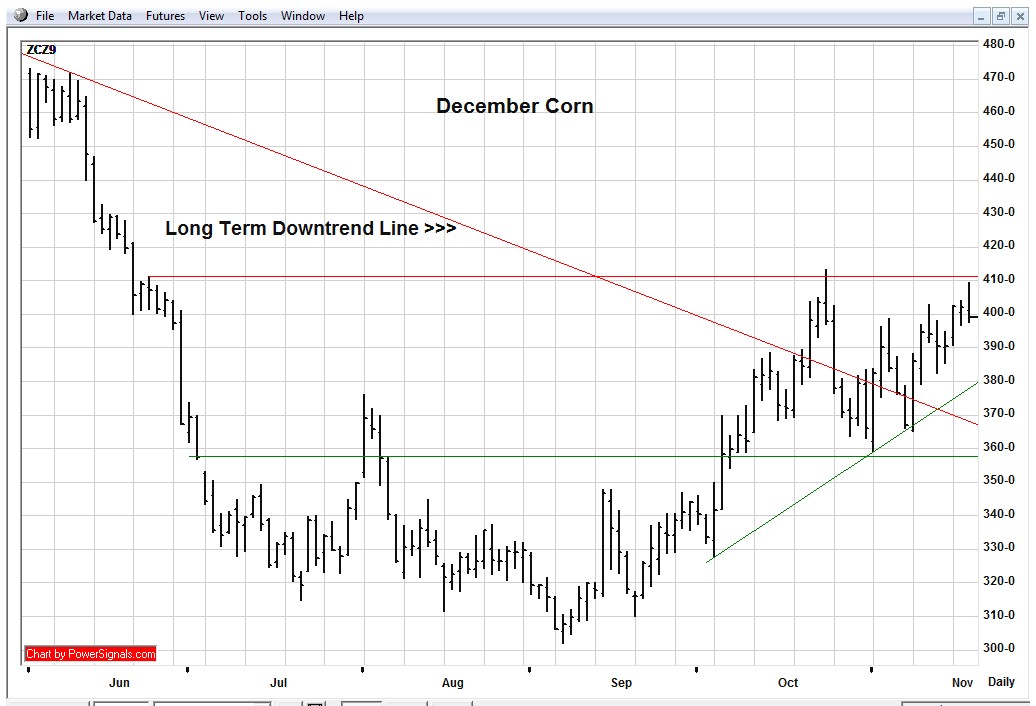 I have been saying "Long term downtrend line is support once again. Bears target the green bracket line, bulls target red bracket line".
My bracket lines prove once again to not be random. What you see is not coincidence. This is another example of how the 3rd time at the line is stronger than any other time against a line (up & downtrend line included, the question becomes how much correction, but I expect more from here.
Dec. Corn for 11/19/09
The 200 day moving average is in play now.
In my daily numbers on Wednesday my pivot acted as resistance and was $.04 from the actual high; my support was $.04 3/4 from the actual low. 
 
Grains: Yes,I sold soybeans at $10.47 1/4 and took out a quick $.10. Normally I would have gone home short with the new high for the run at the bracket line and closing lower on the day. Why I did not and prefer to day trade is the power of fund money. For my first 27 years trading corn and soybeans it was an uncomplicated fundamental story of supply and demand, the weather, the dollar, and a few variables. I witnessed a couple of my friends start a fund nearly 30 years ago and made over 6 million in a year. This was after Richard Dennis started a fund that I believe had 50 million in trading power early on. That was big money back then. Since 2003 real money started to flow into commodities and took control of how far the pendulum swings.
Consider how small our markets are relative to other investments vehicles.  The market cap of the S & P 500 is $9.7 trillion vs. the Russell 3000 which comes in at $12.6 trillion.  The public owns $7.6 trillion in public debt while the total in money market funds comes in at $3 trillion.
Compare those financial asset totals with the approximate value at today's closes of 2009 US corn/soybean/wheat production of $52 billion/$33 billion /$12 billion respectively or slightly less than $100 billion total.  A pittance (0.33%) compared to the nearly $30 trillion in the 4 financial asset classes outlined above.  My fear is far more financial asset firepower that can be brought to bear on our relatively small ag markets in the weeks and months ahead, especially if a faltering US economy signals more dollar pressure forcing practical money managers to extend ownership in hard assets.
That is what keeps me from selling it with both hands. Yes, at times I will swing trade it for a day, or week, as long as it takes to get my target, but never risking more using a stop than what is left until the target. Example: If I am risking 15 to make 60 and now that the trade is going right making 40 there is only 20 left, I do not want to risk more than 20 to make the last 20. If I feel that there is a better chance to be stopped out before I might get the last 20, I just exit there.
Read my comments the last 2 days and see how my intuitiveness for the market and "feel" of the funds having their hands around the necks of the markets sellers, and having them "tap out" or buy stop themselves out of the market at the resistance red bracket line, instead of waiting for that area to initiate the short. That is what trade locations for me is all about. That is why I bought back my shorts last night so I can be free to sell if they did get up there, instead of having a $.20 loss and trying to manage it. If my sell did not work it would only have been a $.08 loss, not a $.28 cent loss. And when the market went back to my pivot instead of almost being even, I would have taken out $.14 profit. YOU are the trader and can take credit for what you do; I can only take credit for providing you with the best numbers possible to work with.
My comments came from seeing chart action for 35 years, and the probabilities of action given the chart "look". Knowing how markets "breathe" also helps. That is why tonight's action with my pivot holding in soybeans makes me want to wait for a rally to get short again; I never sell where my numbers tell me to buy, and so the pivot has kept me out of trouble once again. Even if I was so aggressive that I wanted to sell, they are at $10.30 as I speak and when it was at the pivot (down 3 1/4) I would have sold it instead of a bounce $.06 higher now. This saving $.06 is no different than making $.06 on a trade you have on.
Bottom Line: I feel the high for this week is in for all 3 row crops and I want to use my numbers and trade from the short side. I am more than respectful for the power of money and what it can do, and I want to continue (as always) to trade my numbers in spite of what they are doing, but trade a size when contra to what they are doing that if I am wrong it is an insignificant amount. If the trade works, the trade location made the risk reward my kind of trade that makes me the casino. They are the reason for getting the market to the location to present the opportunity. The market could be $1 higher next week and it does not matter, I might even be long then, but now we trade 1 day at a time and I am looking for a pullback to profit as was the case on Wednesday. I am not looking to brag how long I held a position or how much profit I took out on a single trade. That is like telling me about every pitch in the game, I just want to know the final score at the end of the game. In commodities trading the game ends every day at settlement, because win or lose you are ALWAYS long or short from today's settlement because that is where you could have gotten out win or lose. Overnight it turns into another trade. It does not matter if you traded well 1/2 the time, or most of the time, the game ends daily, the final score is measured weekly, monthly, quarterly, and annually. NOT on 1 trade.


Want to know what I think for tomorrow?  

The 9 markets now covered daily are January soybeans, December corn, December crude oil, December S&P, December Euro FX, December 30 yr TBond, December gold, December natural gas, and December cattle.
My numbers usually are sent at least 12 hours (via your email) in advance of the next day open outcry session. Subscribers use them as best suited to their own needs and sometimes that involves the overnight trade.
 Find out why people from Canada, Czech Republic, Germany, India, Switzerland, South Korea and the UK keep renewing this service. 

 HowardTyllas Daily Numbers & Trade Ideas cover 9 markets for less than $10 a day,
HowardTyllas Daily Numbers & Trade Ideas is designed to help you plan your trading strategies for the coming day.
 $199.00 USD for each month, renewable monthly
 HowardTyllas Daily Numbers & Trade Ideas $199.00 monthly
 HowardTyllas a weekly newsletter $479 yearly
Feel free to email with any comments or question you:  [email protected]
           May Your Next Trade Be The Best                          
                     Howard Tyllas            
Tel.1-312-573-2699, 1-312-961-4390




Disclaimer:     No guarantee of any kind is implied or possible where projections of future conditions are attempted. Futures trading involve risk. In no event should the content of this be construed as an express or implied promise, guarantee or implication by or from Howard Tyllas, that you will profit or that losses can or will be limited in any manner whatsoever. No such promises, guarantees or implications are given. Past results are no indication of future performance.