Published on:
12:40PM Nov 21, 2009

This report was sent to subscribers on 11/19/09 5:40 p.m. Chicago time to be used for trading on 11/20/09. Everything is done by Howard Tyllas, no program or black box.
December Corn
After the close on 11/20/09: My resistance was 3.97 3/4, just .01 1/4 from the actual high, and my support was 3.90, just .00 1/4 from the actual low.
Ask yourself, how well would I have traded this market if I had these numbers last night? Subscribe now! See for yourself why this second year of service has tripled my subscriber base.
Sign up For Free 1 Day Trail of Daily Numbers & Trade Ideas
Sign Up for the Free Farmer Hedging Program Webinar By: Howard Tyllas
4.13 1/2                          Resistance near bracket line
4.05 1/2
--------------4.97 3/4              Pivot
3.90              
3.82 1/2             
Trend     
5 day chart....….….  Up   (from last week same day)                                                    
Daily chart   ……….Sideways          
Weekly chart …….. Down   
Monthly chart ….... Down $3.86 is the 200 day ma
ATR 13 1/2               Overbought 67%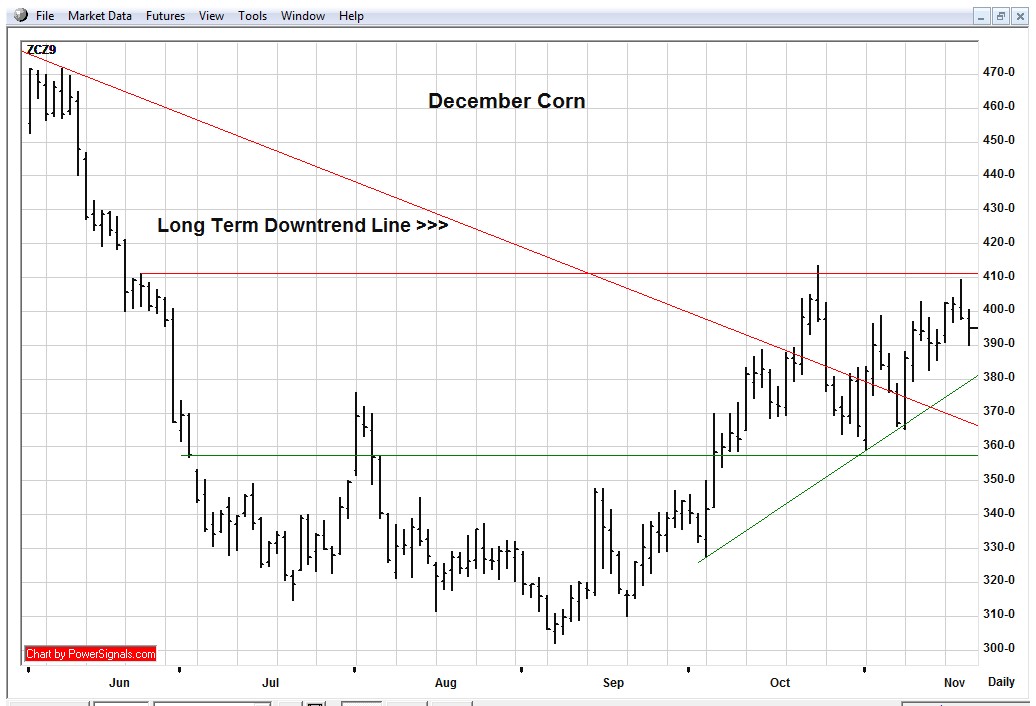 I have been saying "Long term downtrend line is support once again. Bears target the green  (uptrend) line (3.80), bulls target red bracket line" (4.11). Middle is $3.95 1/2.

My bracket lines prove once again to not be random. What you see is not coincidence. This is another example of how the 3rd time at the line is stronger than any other time against a line (up & downtrend line included, the question becomes how much correction, but I expect more from here.

Dec. Corn for 11/20/09

The 200 day moving average is in play now.

In my daily numbers on Thursday my resistance was $.01 3/4 from the actual high; my support was $.00 3/4 from the actual low. 

Grains: Spot on numbers! The USDA also announced a sale of 116,000 tonnes of soybeans to China for 2009/10 this morning and this was considered supportive. This sale is in additional to a higher than expected export sales number on this morning's USDA report. Net soybean sales were 1,349,700 tonnes. Traders had been expecting total soybean sales of less than 1.0 million. Nearly 725,000 tonnes of this week's sales were to China with over 142,000 to Mexico. As of November 12, cumulative soybean sales stand at 73.3% of the USDA forecast for 2009/2010 even farther above the 5 year average than last week. That average stands at 49.0%. Sales need to average just 227,000 tonnes in soybeans each week to reach the USDA forecast.

That was the excuse to open $.08 higher than where they closed electronically before the report was released. If you look at the 5 minute bar chart you will see that the market traded in 4 bars at 9:30, 9:35, 9:40, and 9:50 all with the same low of 10.24. My pivot of 10.23 3/4 after 5 minutes acts as support and was only .00 1/4 from the actual low in open outcry. I do not have time to look at all the markets I cover and see results on a 5 minute bar, but I was active trading soybeans today using my numbers and watching the 5 minute bar.

I sold soybeans at $10.46, took some small profits on some and kept one for a longer term trade. Again, if in day trading mode I would do better by covering on the close at $10.39, and the market gave me another chance to sell against my pivot resistance of 10.49 tonight since the market did take out the buy stops in thin trade and posted a high of $10.50, 10.44 last. You could say I might have missed something if they opened lower and did not look back, but remember I want to be in day trading mode thinking I can take out $.10 five times, and that would be easier than one $.50 move at this time.  It is this market at this time that I plan a strategy based on the best approach at this time. Tomorrow I could take home this short and turn into a small swing trade as well as to continue to day trade.

Yes, I would like to have more time to trade, but I am getting better at trading and doing this service at night, and talking on the phone and trading in the day session. It is like the first couple of years trading and trying to stay unemotional trying to execute whatever I was supposed to do without question or second thought. Leave the second thought in play though if your intuitiveness pays off. If you get off your plan because you "feel" or "think" (intuition), I will tell you to keep a daily journal and write down the results, otherwise when you think back a week or two you will be like a fisherman and would have more than you really did, or lost less. Keep it real. When my intuitiveness is going well I will keep it in play, but if not end it quickly. The journal helps that. The bottom line for me is that I never go against my numbers, never, but I use it to help take a profit short of the number, or get aggressive, or take a trade or not. I want to almost always take the trades at the lines though.    

I called it right last weekend (11/16) thinking corn would gravitate around $4 on expiration today. This will be like a report day if they go off the board within $.03 of $4 because the powerful funds could be setting the market up for a big surprise one way or the other. They have done this many times before and I feel this time it is ripe for that type of action. Let's say corn closes at $4.02. The $4 calls are exercised and they are now long futures at $4.00, and the $4 puts expire worthless, right? Wrong! Let's say the funds are long 8000 $4 puts, all they need to do is call their clearing firm and announce that they want to exercise their puts anyway. They can do this after the close of trading Friday. Now they are short 8000 futures at $4 and on Sunday night they offer 5000 more at let's say $3.98 on the opening and could sell 5000 that night.  When you get notified that you the seller of the put was exercised would make you long at $4 and you thought you had no position. Now you must sell because you did not want a position or even worse you wanted to go short, the pain begins! This scenario can be played in different ways but that is what I think will happen, a surprise up or down and I have no idea what it will be.  

I probably will go home with no position but if they breakdown and I am still short, I might take it home. Lastly, the SF/SX exploded this week to SF +20 over the SX; I got out the other day at +4. If I was bullish I could have stayed but I was not. Note: It is really slow when there is 2 cents between the bid and offer in the spot month SF, usually 1 cent at the most, and a 2 contract bid and offer. Almost no volume has traders leery of tomorrow's trade.

 

 

Want to know what I think for tomorrow?   

 The 9 markets now covered daily are January soybeans, December corn, December crude oil, December S&P, December Euro FX, December 30 yr TBond, December gold, December natural gas, and December cattle.

My numbers usually are sent at least 12 hours (via your email) in advance of the next day open outcry session. Subscribers use them as best suited to their own needs and sometimes that involves the overnight trade.

 Find out why people from Canada, Czech Republic, Germany, India, Switzerland, South Korea and the UK keep renewing this service.

 

HowardTyllas Daily Numbers & Trade Ideas cover 9 markets for less than $10 a day,

HowardTyllas Daily Numbers & Trade Ideas is designed to help you plan your trading strategies for the coming day.

 

 

$199.00 USD for each month, renewable monthly

 HowardTyllas Daily Numbers & Trade Ideas $199.00 monthly

 HowardTyllas a weekly newsletter $479 yearly

Feel free to email with any comments or question you:  [email protected]

 

 

           May Your Next Trade Be The Best                          

                     Howard Tyllas            

  
Tel.1-312-573-2699, 1-312-961-4390



Disclaimer:     No guarantee of any kind is implied or possible where projections of future conditions are attempted. Futures trading involve risk. In no event should the content of this be construed as an express or implied promise, guarantee or implication by or from Howard Tyllas, that you will profit or that losses can or will be limited in any manner whatsoever. No such promises, guarantees or implications are given. Past results are no indication of future performance.